Monday – 25th August – Tour Diary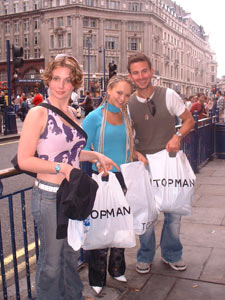 A well deserved sleep in and we all thoroughly enjoyed it.  Most of us didn't get up until 10am – lovely!
Everyone had different plans today because it was our first day off!  Caleb was meeting his brothers and family for the day.  Some of them live in England and we all met them in the foyer of the hotel for a coffee before Meryl, Beth, Matt, Saranne and Emily headed to Oxford Circus for some serious shopping!  We started at Top Shop which is of course one of our favourites.  Meryl bought herself quite a few clothes and some for her boyfriend.  Beth bought a CD and some hair products.  Matt shopped at Top Man and came away very chuffed with a new pair of jeans.
Outside Top Shop we spotted Shabbs – a well known Tribe fan.  We chatted for a while about our weekend and our week ahead.
We were pretty tired from wandering all the shops by then and headed to Garfunkels for some lunch.  Over lunch we decided that we would like to see a movie so we headed back to our hotel and dumped all our shopping.  With only girls wanting to see a movie the only choice could be Pirates of the Carribean.  We're all mad on Johnny Depp!!
A great movie even if only for the hottie factor.
Back to the hotel where we had to say a sad goodbye to Matt.  We're off to Atlanta tomorrow and Matt is staying in the UK and preparing to tour the country in a play.
An early night because we have a fairly early start and want to  be well rested for our time in Atlanta.  We can't wait to see Mikey and Tom too!!
Tribe Tour 2003 – Bringing The Dream To The World…