Thermal Blankets?!!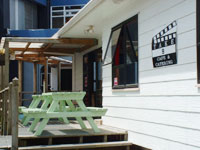 YES! Its true, food and thermal blankets go hand in hand, besides thermal blankets and space ships!!
When we asked Edward at the Cloud 9's café about catering for the crew of sometimes 90-100 people, he said that they use thermal blankets to keep the food warm because there is such a large amount of it!
The team prepare the food the day before, so the menu plan depends a lot on the schedule.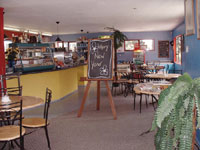 We eat large quantities of food (not just donuts)!
Everyday the café goes through a good amount of food, catering to not only to the crew but also to The Tribe production team who get the nibbles when they are so hard at work.
There is a variety of food available at the café. Different kinds of sandwiches, pastas, pies and they even do special breakfast if you please!
Here are some of the figuresŠ
Lettuce… hmmm only about 60 a week.
Loaves of bread, including French sticks… about 50!!
Pasta – 10 – 12 kgs.
And the list goes onŠonions, garlic, chicken etc. Not only does the café produce huge amounts of food for the crew… but they also drive about 300 Kilometers per week to deliver it.
Favorite food to cook and eat
The official cook for the Take 9 café likes to cook Italian food. He got the hang of Italian food from where else but Italy itself. He was travelling through and picked up some great skills and great dishes. We get to have a taste of that every week in different form of dishes.
The crew's favorite food however is much desired crumbed chicken and salad. They've got to be healthy!
The usual menu for the crew lunches comprises of:
1 meat dish
1 Vegetarian dish
Selection of breads
2 – 3 different kinds of salads
Desert.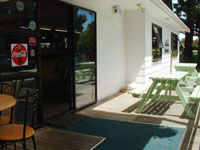 Good café summer food
Of course, summer and winter meals differ too. Since it is the summer in New Zealand, the café prepares a lot of cold stuff like fruit salads, carrot cakes etc. for the crew.
From dusk 'til dawn
Take 9 café also works some long hours to keep up to the catering demands and huge amounts of cooking that they do. They work from 7 in the morning till 6 in the evening!
We love it!
When it's sunny, we often find a lot of people hanging out in the sun at the Take 9 café.
It's definitely a good choice to get a break from work, especially with the tasty meals on offer!