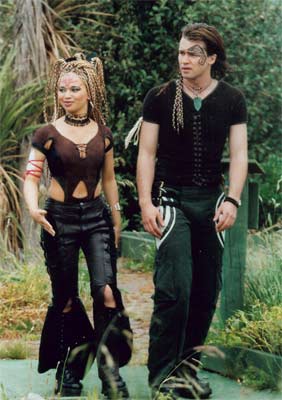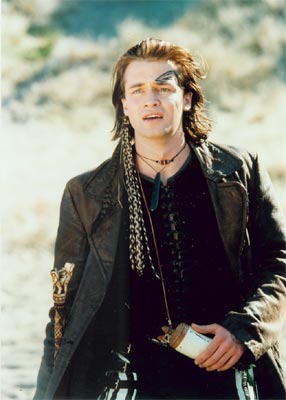 Over the next few weeks we are profiling a few of the costumes used throughout the series'. From the way they're made to why they were designed the way they were. This week we profile Bray's Tribe 2 costume. Click any of the costume pictures for a larger view.
Bray is a handsome, confidently cool, enigmatic young man. He is an experienced eco-warrior and activist. Tall, well built, Bray can handle himself and has made it his mission to look after others.
During Series 2 his style changed drastically from his feral look in Series 1. He came into his own with his style and had a much more tribal feel to his clothes.

Bray's pants are made of a very heavy cargo twill. They are an army green colour with black stitching. It has a standard waist which is done up with two black domes. The fly is double size but does up with a zip. But the overlap over the fly has three black pieces of strapping that buckle up on the right hand side.
Down each side of the pants there is an insert of white and black leather. It is in the shape of a large petal with the black contrasting pattern swirling around. The pattern is the same one that Bray wears around his eye later on in the series – mostly in series 3. Perhaps that is where the idea came from.

Below each insert on the side of the legs there is a large cargo pocket. I have just been told by the Costume Designer that that type of pocket is called a Bellows pocket and it has an inverted pleat down the middle of it. There's a lot of terminology in the costume department and I'm not very familiar with it all. So it's great to find out what each little nip and tuck is. Each pocket also has a centered black dome at the top.
From the pockets down there is a a large black plastic zip that goes all the way down to the hem.

This isn't the exact t-shirt that Bray wore with this costume but for the sake of having another photo on this page(because we couldn't find the original top) I will describe the t-shirt that he actually wore. Unfortunately it was another knitted number like his white vest. It is made of a stretchy brown boucle type fabric which keeps it breathable. It is threaded together all the way down the front with black taping. It is short sleeved with a v-neck.
Along with this costume Bray wore a long brown leather jacket which followed him through to series 3.
Bray also wore a large greenstone (jade) necklace. Greenstone is called Pounamu in Maori and is a much sought after stone.