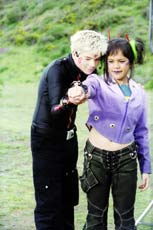 Cloe disappeared mid way through series 3 and then returned later in the series when she was found by Jack at the river. She was in a brand new costume and seemed to have grown up quite a lot. This was one of the brightest costumes we had seen to date.
Cloe also came back with an attitude – a teenage attitude. In the early part of series 4 she didn't want anyone telling her what to do and was becoming a rebel. Then along came Ved and Cloe's teenage rebellion continued. She was no longer a child and didn't want to be treated like one either.

Firstly Cloe wore this teal blue mesh top. It is very thin and has a very wide neckline – so it would just hang on the shoulders. The sleeves are long and they are gathered very tight on the top seam.

Next Cloe wore this very distinctive yellow zip top. It is tightly fitted around the bust. It is covered in vertical metal zips which make the top pretty heavy. Each zip overlaps and they are sewn onto a yellow cotton backing. It has small yellow satin straps and is much wider around the front than at the back. At the back the two sides meet and zip up in the middle.
Over her tops she wears this bright blue jacket. It is made of thin blue vinyl. It is a short jacket and only comes down to the top of the waist. It is a fitted cut and has a lovely blue collar and lapels that have silver eyelets all the way down the outside seam. The whole jacket is stitched in white stitching and each of the sleeves has been criss crossed in white stitching too.
The jacket is lined in purple polyester satin and does up at the front with four silver domes. It also has shoulder pads.

With this outfit Cloe first wore these purple shorts. They don't look very good when they're off but surprisingly Cloe didn't look too bad in them. They are made of shiny light purple vinyl and have a very flat front around the waist. This is probably because there is no fly zip in the middle but two on either side. Each zip has a large round metal puller. The shorts come to just above the knee and on the bottom hem there is sewn a frilly black and white tartan ruffle. The shorts are all stitched in yellow thread.

Cloe wore these pants with the above tops a few episodes into series 4. She wore them with some high heeled boots. It was a move away from the casual shorts to something a little more dressy. She wore them with the blue jacket for a while and then later on with the purple jacket below.These 3/4 pants surprised me. I always thought they were black denim from looking at the photos. But they're actuallly a dark army green colour with an almost fern like pattern on them. You can see this in the close up photo on the right.

The pants come to just below the knee and are slightly flared from the knee down. They don't really have a waistband but have stitching around the waist to make you think so. They do up at the front with criss crossed eyelets threaded with black drawstring. Around the waist there is a belt type decoration. Large silver rings attach at the front and then the same fabric as the pants are strung around the waist and through the belt loops and on the right hand side is hung a pocket.

Lastly Cloe wears this purple/pink jacket. It is made of quite thick material that fades from light pink through to a darker purple and has sparkles throughout. It is similar in style to her blue jacket in that it is fitted and only comes to the top of the waist. It has a lapel type collar and has two very large silver eyelets (the same as were used on Ebony's leather jacket) on each side.
In the lower section of the jacket there are more eyelets. Two on either side of the zip and there are three around the back. The jacket is done up with a large toothed bright purple plastic zip.
Look out for some more great Tribestyles coming soon! Including the kidnap outfits worn by Trudy and Amber!