Hair and the Tribe, well, where to start?

Hairstyles in the Tribe have definitely evolved. They have got more and more advanced (or whacky) since the very first show.

There has been every sort of hair you could imagine! Braids, dreads, crimped, long, short, knotted, coloured, spikes and many more.

Ebony has had many different hairstyles. Her braids make her hair easy to manage and easily manipulated into all sorts of hairstyles. Lots of materials are used to create these styles including wire, lots of pins, plenty of hairspray and sometimes a perm, especially for those curly braids.

Amber from the beginning has had her trademark "Zulu knots". They have been accentuated with different colours of one sort and another but they are definitely a large part of the Amber image. In the first series Beth Allen's hair was reasonably long and the "Zulu knots" were her own hair. In series three her hair was shorter and the knots were made and were pinned in place. The beautiful ringlets are also pinned and her hair is dyed to match.

Taisan's hair has had many fabulous hairstyles. Often in very rigid styles her hair juts out at all angles having a very dramatic effect. A lot of hair wax is used for these styles and a lot of hairspray. Her blue hair accentuates these styles and adds a special touch because it is highlighted in certain lights.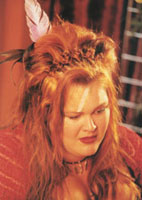 This is an example of the detail that is put in by the makeup department. The small knots on Alice's head are meticulously placed and the hair is teased behind them and a couple of feathers are added.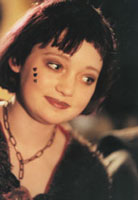 Trudy started off in Series I with this trademark fringe. Not your everyday hairstyle, one side longer than the other. Certainly something different and definitely a Trudy Style.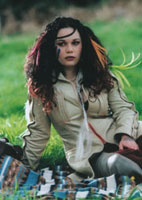 Danni's hair was not quite as long as it seemed, she had extensions put on her hair in contrasting colours from her own that added highlights and colour. A plait across the forehead and feathers attached to the extensions, add to the style.