There is no one better than the cast themselves to describe what it is like wearing the clothes, and having the make-up and hair of a character in the Tribe.
This article talks to the members of cast about what it feels like to wear Tribestyle, and the processes that are involved.
Who are they?
Each character's style and appearance is determined by their personality and attitudes. We asked some of the cast to talk about the motives and behavior of their characters, and the style of the character they portray in the Tribe: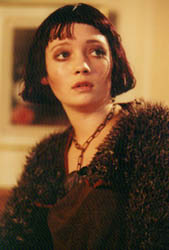 Antonia Prebble (Trudy) on Trudy
"Trudy can be lovely one minute then vicious and cold as soon as it looks like there is competition for her one true love, Bray. She is very maternal for her baby, of whom she is very protective and the baby is the most important person in her life".
In terms of Trudy's style, "she has a dark gothic look in the beginning, which slowly changes a her life in the mall gradually becomes more stable and normal. Trudy never wears anything but purple on her head and face and her clothes are all very earthy colours, with a lot of brown and green".
Sarah Major (Patsy) on Patsy
"Patsy is funny, sensitive and sometimes a bit stubborn. She can also be a teeny bit mean".
Patsy's style is "funky. She definitely knows not to wear a green sock with a purple sock! She is quite different".
Victoria Spence (Salene) on Salene
"Salene is very motherly but not quite sure what she wants in life, and is slightly insecure. But she enjoys the company of the rest of the Tribe".
And Salene's style? "She has quite a lot of style but so does the rest of the Tribe".
Ella Wilks (Danni) on Danni
"Danni is a very strong person in some ways who goes for what she believes in. She doesn't give up or give in to things that stand in her way. She is also quite vulnerable in many ways".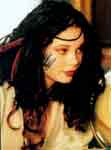 For Danni's style "the make-up and wardrobe team have done an amazing job creating a look which best suits Danni's personality – it is both strong and feminine".
Ashwath Sundaresan (Dal) on Dal
"Dal is a very smart and keen individual. He has feelings for Ellie (in series 2) and so does Jack, which often creates conflicts between the two. I think this is great".
And Dal's style? "I think Dal is very good looking! He wears overalls, jeans and a shirt".
How does it feel wearing a Tribestyle?
On days when the cast are not filming or are off over the weekends, they will keep aspects of their character's style.
They would not necessarily wear the same costumes (as these need to be with the wardrobe department!) but other elements of their style cannot be changed easily and are kept – such as coloured hair, which the cast will need to keep for the next day of shooting as it is too hard to have constant dyeing and re-dying of hair in and out of filming days.
What is it like going back home to their families or being out in public having coloured hair or other parts of Tribe style? We asked some cast members for their thoughts…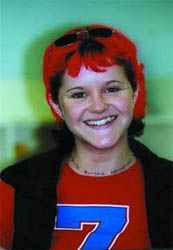 Victoria Spence (Salene): "My hair stays bright red for the whole six month shoot and people stare at it sometimes!".
Sarah Major (Patsy): "My hair is usually the same on weekends but if I don't wear a hat so many people look at my hair"
Antonia Prebble (Trudy): "I still have my purple hair in the weekends and love it! Yeah, I do get a few strange looks but I've got used to it. I love the fact that I look pretty originals and not just like everyone else. I wouldn't say I dress like Trudy – some of my clothes are wacky but not as futuristic and way out as Trudy's".
Ella Wilks (Danni): "I have a lot of braids and knots in my hair which I keep in on weekends. But the black colour is kinda' natural so no one stares unless we're doing something in full costume. Then we get some really weird looks".
Ashwath Sundaresan (Dal): "I try to gel my hair down"