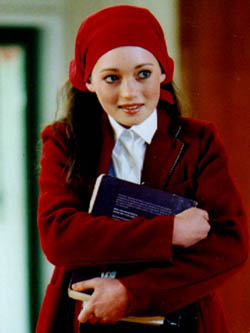 This article continues looking at how members of cast feel about wearing Tribestyle, and the processes that are involved in clothes, make-up and hair.
Their favourite style?
Each character in the Tribe goes through different changes in their appearance and style as the storyline progresses. This is just like in real life when people change their hair or fashion at different times, and matches developments in the scripts in the series.
We asked some of the cast members if they had a favourite "look" in the Tribe so far, and this is what they had to say about their characters:
Victoria Spence (Salene): "It was when my hair was all layered. I had pink eyeshadow and pink lipstick. It was around episode 57-60 of Series 2".
Antonia Prebble (Trudy): "In episode 66 there were some flashback scenes in which I had different hair. I loved that because it made me look really different. I also liked my look around episode 19 ish when I had these really pretty gold spirals in my hair and I didn't look so gothic".
"Sarah Major (Patsy): "When I had knots on the side of my hair".
Ella Wilks (Danni): "I really liked it when I got my new look in ep 76 ish of Series 2. It made the character look harder and I loved the tattoos!"
Ashwath Sundaresan (Dal): "I like it when my hair is gelled up to look like a Mohawk".
The processes involved
Before the cameras start rolling, the cast must get into costume and have their hair/make-up applied for their particular characters.
Sometimes this requires their hair to be dyed. "For my hair to be looking really fresh, this is dyed about every two weeks," says Antonia Prebble about Trudy. "The hairdressers are really fast and slap it on in about 15 minutes then you leave it on for about two hours".
Sarah Major's dye for Patsy's "bleached" look takes about half an hour to do.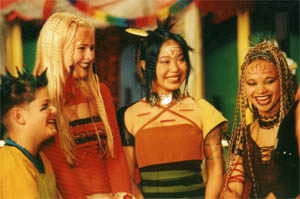 Victoria Spence for Salene gets her hair "coloured about every ten days and to do my hair in total it takes about three hours".
Ella Wilks has colour put in her hair "about once a month for about two hours. It's not really long compared to Victoria!".
Other cast members do not have their hair dyed – for Ashwath Sundaresan (Dal) "I don¹t have coloured hair but do have fresh haircuts every fortnight".
And make-up? Every day of filming requires make-up and this is "topped up" during the filming day to account for different scenes or conditions. The length of time for make-up varies for each character. For Ryan Runciman (Ryan) and Ashwath Sundaresan (Dal) it is about "10 minutes" but for Antonia Prebble, Ella Wilks and Victoria Spence it is "about 45 minutes".
Actual hair-styling (as opposed to colouring) is also done for each day of filming and varies again – for Ryan Runciman and Ashwath Sundaresan it is about "five minutes" but Sarah Major, Victoria Spence, Antonia Prebble and Ella Wilks take about "20 minutes".