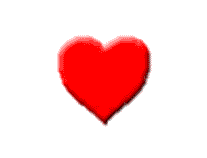 Ah weddings!
Who can resist the call of true love and all the fun that goes with a wedding? The white dress, the bridesmaid's, the best man's speech… But not in Tribeworld!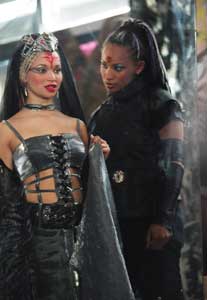 The Bride of Zoot
The latest characters to tie the knot in Tribeworld were Ebony and Zoot – or what she thought was Zoot.
Ebony was dressed to kill in black and red which seem to be her trademark colours, even on her big day. This was never going to be a white wedding!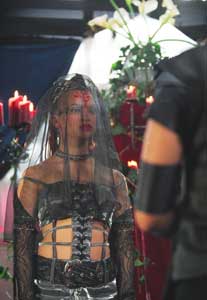 Ebony wasn't exactly in love, more power hungry and perhaps that is why her dress was the colour it was. It fit in well with Zoot's colours and the dead groom made an appearance (at least in Ebony's mind he did) and was dressed in his familiar Zoot gears for his marriage to the lovely Ebony.
Siva and Java didn't bother to get changed and appeared in their normal outfits for their roles at the wedding.
It was all over very quickly and Ebony was left to celebrate her honeymoon on her own, most probably because her husband did not really exist!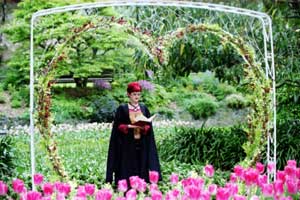 VR Style
Ebony can't seem to get enough of being the blushing bride and was wed to RAM in a beautiful garden service surrounded by her sisters and the best man, Jay.
This wedding was pretty stylish and the sisters all dressed up for the occasion (again all in the mind – this time in RAM'S as part if his virtual reality).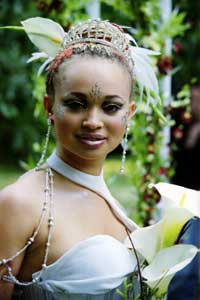 The bridesmaid's wore dresses of red and carried beautiful red lilies as they followed their sister through the gardens. There was one problem with these bridesmaids though – they were also married to the groom!
None of this seemed to matter to RAM who was bewitched by the elegant Ebony and had set his heart on adding her to his collection of wives.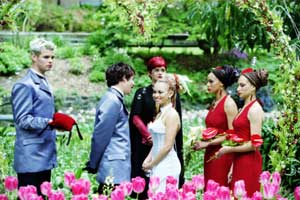 He went all out for his wedding day and looked pretty smart himself. He got Salene to oversee proceedings, Jay to be the ring bearer and the whole event was dreamlike with bubbles floating through the air and a heart shaped gazebo.
All that was missing from this wedding was some guests and the most important thing – love.
True Love
A wedding is a wonderful affair, especially when true love is felt by all participants. Weddings are a time of celebration, the bringing together of two hearts as one. A promise to remain faithful for all time.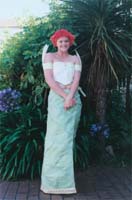 Lex and Ryan had a joint wedding with their brides. Lex had found true love once again with Tai San and Ryan was tying the know for the first time with his Salene.
The biggest difference between with this double wedding to the weddings of Ebony, Zoot and RAM was that there was genuine love in the air.
The Mall Rats were in attendance to join in the celebration and everyone was united in their feelings for the day. There was a real sense of purpose, of the world being as it should once again.
Lost Love
The first wedding we ever saw in Tribeworld was the union between Lex and Zandra.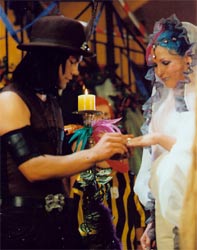 Sweethearts for a long time they decided that it was time to make it official – or rather Zandra decided it was time to make Lex her own.
They were married in a lovely ceremony surrounded by their loved ones and they thought that they would be together forever…
I do
Weddings are a time for celebration and add a meaning to life. When someone is in love and finds their soulmate in Tribeworld they want to hang on to them.
The inhabitants of this world want to celebrate what they have found after they lost everyone and everything that they had ever loved or called their own. They see weddings as a continuation of the life that they have all left behind, a way to make sure that love does not leave them and above all, to keep their dream alive.