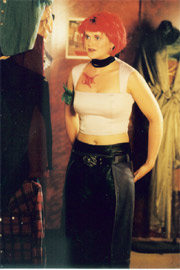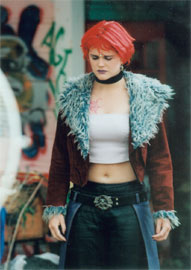 Initially kind and unselfish, her growing attraction to Bray brings all her suppressed emotions to the fore and her friendship with Trudy turns to bitter enmity.
Through her growing sense of guilt and lack of self-worth, Salene becomes bullimic, and is only saved from tragedy by the caring Ryan.
In Series 2 just after Salene's meeting with May she marries Ryan in a double wedding cermony along with Lex and Taisan.

These are not the exact pair of pants that Salene wore with this costume but we couldn't find the originals. These are pretty similar. They are made of forest green leather and are fully lined so they don't stick to the skin when it's hot.
They have no waistband but on the right hand side where the front pocket should be there is a diagonal zip that is overlapped with criss crossing black shoestrings. There is a pocket on the left hand side.
The pants are double stitched in white on all seams and are slightly flared at the bottom.

Over her pants Salene wears this open skirt. It is made of purple leather and once again is fully lined – particularly because the inside is also seen openly. It has a full waistband and does up with two domes at the top.

There is a large split up the back so that it's easy to move in and doesn't confine Victoria to shuffling. The skirt is actually sectioned into two and from the knees down is a seperate panel. All stitching is double yellow stitching.
On the back there are two large bum pockets, Worn with this is a big black belt with a large buckle at the front – but unfortunately it is also lost in amongst the thousands of items in the costume store. But take a look at the picture above to see what it looks like.

Next is Salene's pink top. It seems to be made of a stretchy satin fabric. It has a very fine thread and is very smooth. It shaped like a bodice and has two shoulder straps which are positioned wide on the shoulders. The top is fairly short and shows the midriff.

Attached to the back of the neck are two long black strips of black fabric. These tie around Salene's neck – I'll bet you never knew these were part of the top! A zip is used on the back to do it up.
Lastly Salene wears this suede jacket. It's pretty heavy and is made of thick maroon suede. The front is cut on an angle and the zip goes from the bottom left to 

the top right. It has a huge collar made of long grey faux fur. On the front left of the jacket there is a little triangle pocket with a large flap.
It is quite a short jacket and only just comes to the waist.