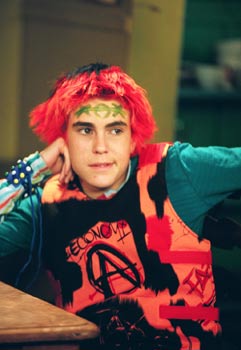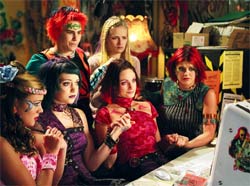 Over the next few weeks we are profiling a few of the costumes used throughout the series'. From the way they're made to why they were designed the way they were. This week is one of Sammy's Tribe 5 costume's. Click any of the costume pictures for a larger view.
Sammy is always wearing long sleeved t-shirts and vests. His hair has always been bright orange/red with a blue bit at the back. On his forehead he wears his tribal marking which is a line of naughts and crosses pained in lime green.
This costume was Sammy's final costume during Series 5 and has bright orange included which is in most of his costumes.

Sammy's long sleeved t-shirt is a lovely deep turquoise colour. It is made of stretchy cotton and is fairly lightweight. It is ribbed and has horiztontal lines across it.
The neck is trimed in a striped stretch cotton in blue and orange and the lower sleeves have been made of the same trim and are striped in green, orange and light blue.
Down the front there is a large red plastic zip.

Over the turqoise top Sammy wears this bright orange vest. It is black, orange and red and has a few random slogans on it like "economy" and "Tax Evas" which presumably means tax evasion.
One shoulder is velcroed, perhaps for decoration and perhaps to make it easier to put on. Around the sides there are two large red straps which strap around the sides with velcro.

The vest has been padded so there is some sort of padding between the two layers of fabric – keeping Sammy warm.
Sammy's pants are a grey colour for most of the legs and then have an orange trim around the waist and down the sides of the legs. On the front there are huge pockets that extend from just below the waist to just above the knee. They're quite hard to see as they blend in so well with the rest of the legs. Double orange stitching is used through-out which makes a nice contrast on the grey fabric and matches the orange bits.

They are done up with a zip fly and a dome and through the belt buckles there is a grey strapping belt.
With his costume he wears these sand shoes. They are "Vans" and are flat soled with orange canvas. They are pictures of palm trees on them

Finally Sammy wears these cuffs. They are tough bendable blue plastic. They have large raised bubbles on them that are painted different colours – red, green, yellow and white. Holes have been punched through them so that the blue ties can be threaded through and attached to the wrist.