Series 5 is under way! The wardrobe department are hard at work stitching as we speak and measuring cast members for new outfits.
What will be the look of season 5? What will the new characters be wearing? Will Jack still have orange hair? Will Amber keep her Mall Rats style or go back to her alter ego Eagle feathers?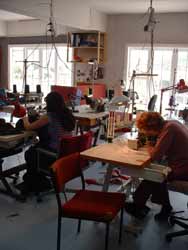 The wardrobe team hard at work
And the mysterious Mr.X, just who is he and what will his style be?
Well, we know that there are some new characters. The cast list tells us that there's a Slade, Ruby and Gel appearing in series 5.
We took a trip down to the make-up and wardrobe department the other day to see what was happening.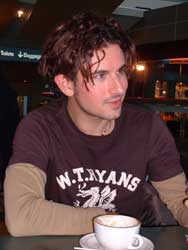 Matt doesn't look too bad after a flight from the other side of the world!
Matt Robinson has naturally wavy brown hair. He has had it cut fairly short and it has been darkened to suit the character of Slade who we believe might be a bit mysterious himself. There were rumours of cowboy boots but whether this is true or not is anybody's guess.
Fleur Saville has long blonde hair and this has been highlighted and left long (much to her delight).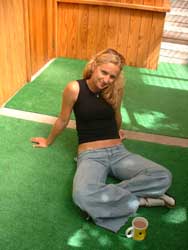 Fleur relaxes at the cast house before filming starts
Does this mean that the character of Ruby is that of a blonde bimbo? Or is she a femme fatale in the style of old movies? Maybe she's a blondie with an attitude?
Vicky Rodewyk is only thirteen years old! Can you believe this gorgeous girl who plays Gel is so young?! Rumours have it that this character will be a Latino style babe – think J.Lo.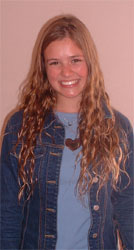 Vicky's all smiles at winning the part of Gel
You can see Vicky in an episode of Revelations incidently as a young Island girl, check out the episode The Friendly Islands.
So what will the style of the new series be? Are the Technos still running around in their lycra outfits zapping people as they go?
Will Zoot have a change of style now that he's back? Perhaps his style will turn from bad to good – or bad to worse?
We have heard whispers in the wind that Ebony might well lose her trademark braids. And that Amber's Zulu knots may disappear.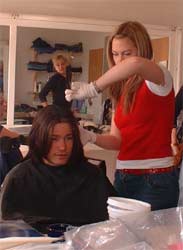 Other rumours are that Caleb's hair may be cut really short as his character has a total style overhaul and is there a grey haired Tribal member?!
All will be revealed as the series is filmed.
But we will leave you with a sneaky peak Caleb getting his hair cut.