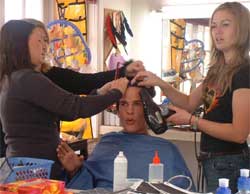 Tom couldn't believe his luck when
3 females all wanted to touch his hair!
The filming of Tribe 5 started today!
The series has finally gone into production with Friday being the last day of pre-production.
The out of town cast and crew are back in Wellington to begin shooting this week. The cast members have happily settled into the cast house and have for the past week been preparing for the first of week of filming. They've been through wardrobe and had their costumes fitted, been to makeup for their makeovers and they've been meeting other cast members they will be working with in this series.
There are two studios for Tribe 5 where the shooting is scheduled to take place. The Mall has had a make-over by the hard working art department in Studio A and other sets including the interiors of the Horton Bailey Hotel and other specially designed sets are in another studio not far from Cloud 9. Besides filming in the Mall today there was also an outdoor shoot early this morning.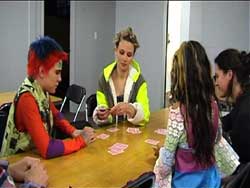 Some of the cast playing
cards today between scenes.
Camera's ready to roll!
The crew call was at an early hour of 7:30 AMŠ however makeup and wardrobe were one step ahead with their preparations at 6:00 AMŠ to get the cast ready for the shoot!
The first cast member to face the camera this morning was Beth Allen (Amber), with a new hair do. We are also expecting to see some new costumes for her over the coming weeks.
Jay, Mouse and Sammy were next up… some rehearsals took place during the shoot and then the camera's began to roll.
The weather forecast
The forecast for Monday, the 28th October was unsettled rain or showers with strong northwest winds. The weather is definitely going according to forecast; in fact we even spotted some hail! But the sun has also been shining brightly between the clouds. So there is some reprieve.
Special guest at Cloud 9
"Is Zoot really back?, " has been the question ticking away in everyone's mind! Danny James was in today and even he won't tell us whether or not Zoot is really back. Guess we'll all have to wait and see…
Here's a short clipped filmed today of Danny James
Look out for our weekly Location Reports every Monday!