TOUR DIARY FOUR – Sunday 5th September 2004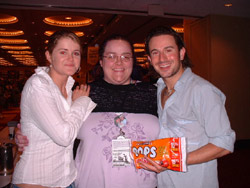 Matt and the Tootsie Pop Rolls that Jessica kindly tracked down for him.
A short lie in for us this morning and we got up about 8.30am. Danny and Emily headed off to do some filming and have breakfast while Matt and Tori headed to the Exhibition Hall for a signing session.
Next up was Danny's individual Q & A panel and there was a lot of talk about Zoot dying in the eighth episode and of course power and chaos was the order of the day. Danny was asked to yell his Power and Chaos line to the crowd which drew loud rounds of applause.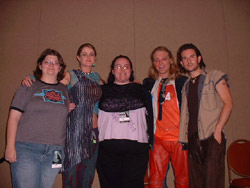 The cast with the two winners of the Awards Banquet tickets.
Next up it was a filming/shopping trip to Lennox Mall. The cast always love to fit in a little shopping when they're away if it's possible and today we allowed for a couple of hours. The boys didn't really feel like shopping so they stayed back at the hotel and rested up. But Tori and Emily couldn't wait to get there. Tori had a definite idea on the things she wanted to buy and ended up getting her sister a bag which she had asked for and a few items of clothing.
Back to the hotel and all the cast changed into costume for their group Q & A session. Questions flowed and camera's clicked and time went by so fast! Then it was time for the Tribe Fashion Contest. Wow there were about 26 entries in the two categories, Best Re-creation and Best Original.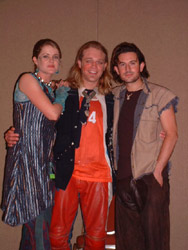 The cast during the Tribe Costume Contest.
Some of the re-creations included Zoot's Costume, Amber's Series 5 costume, Dee's bright funky costume and Alice's costume from series 2 which won first prize in the Re-creation category. The cast were amazed at the work that had gone into them and how close they looked to the real thing! A team of two took out the Best Original category with some fantastically bright funky outfits that were certainly original! It was lots of fun and Tori, Danny and Matt had a great time.
After changing out of costumes it was time for dinner and we went over to the Peachtree Mall to visit the food hall there. We all ended up having a meal of fish and chips.
Next up was the Dragon*Con Masquerade Contest which Danny and Tori would be judging. Matt was unable to attend as he had a performance to do at the Caberet event later in the evening.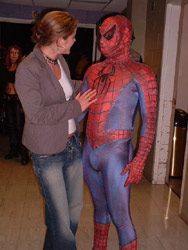 Tori and Spiderman – one of the Masquerade Costume entrants.
The cast were shuttled in a mini-bus with the other judges and MC's to the event at the Civic Center. The other judges included Dr Demento, Craig Parker and Ernie Hudson of Ghost Busters fame.
The Masquerade was an absolutely amazing affair. The costumes were brilliant and the cast were in awe of the amount of effort and hours that went into making them. Some of the highlights included a full Muppet band including Animal on drums, another was a skit and rap by Harry Potter and Draco Malfoy. In the end the judges awarded more prizes than first second and third because they wanted to merit both the creations of the amazing costumes and the performances.
Unfortunately Tori, Danny and Emily didn't make it back in time to catch Matt's Caberet performance but Matt told us all about it and said it was fantastic! Lots of Tribe fans were there to support him and he had a really great time. He mostly performed his own original pieces.
More from Dragon*Con tomorrow!