TOUR DIARY FIVE – Monday 6th September 2004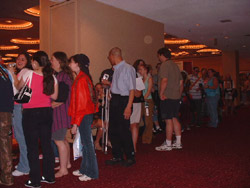 A late start this morning which was good as it was a late night last night with the Masquerade not finishing until 11.30pm and then missing our bus ride back to the hotel!
We all got up and had breakfast before heading down for our last autograph session. A big turn out with lots of people getting in their last autographs and lots of gifts were given to the cast. They felt so spoilt and touched by everyone's generosity. The signing ran a little over time so there was a quick minute for the cast to put all their gifts up in their rooms and then head on over to the Hyatt where the final Q & A panel was to take place.
After half an hour of questions the cast then dedicated the next half hour to more signings and a big photo session.
After heading back over to the Marriot, Matt and Emily went to the Tribe Track where the Charity Auction was to be held. Matt became the auctioneer and it got underway. The first item was a Tribe Series 1, Episode 1 Script. The bidding started at $25 and was soon up to $100. There was definitely a bidding war going on between two well known Tribe fans, "Mom" and "Wizard" for the next item the "Mozzie Mask". But Wizard won in the end with a winning bid of $220. A fantastic result all round and some much needed funds for charity.
The cast all had a bit of lunch and spent most of the rest of the afternoon packing and relaxing in their rooms.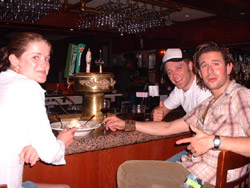 At about 6.00pm we all headed out to get some dinner at a restaurant around the corner called the "Steak and Ale". What a meal we had! Steak was obviously this restaurants specialty so we all ordered steak. But for starters we also had Escargot, Shrimps, French Onion Soup and Crumbed Fried Cheese.
Then onto the steak which was absolutely devine! Danny decided to have Steak and Lobster which was also devine!
Feeling so full, and undoing the top buttons of our pants just so we could move, Matt and Tori couldn't help but order Petite Apple Pie. It was huge! We all had a few spoonfuls but in the end we took the rest home in a doggy bag.
We thought we might catch a movie in our room but it was getting late. But we met all the Tribe Track staff in the lobby for one last goodbye before turning in for the night.
We have all had the most fantastic time here in Atlanta and have been touched by all the fans that attended and made our trip such a success. We hope to see you all again next year!!
Danny, Matt, Tori and Emily.