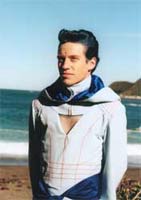 Luke was five when he found out he didn't have a Mum and Dad. He had grown up in the Longtree Orphanage since his birth mother left him on their doorstep when he was only 10 weeks old.
At three years old Luke was a bubbly, bright little kid with no cares in the world. All the sisters at the Orphanage fondly called him Chatterbox because he was always babbling away as a three year old does. He got on well with all the other children at the orphanage and had such a kind nature that he was never picked on.
One day some of the older children were telling each other about their parents and how they had ended up in the orphanage. Luke hadn't even understood what a Mum and Dad were until the other children had brought it up. But because Luke had never had parents, he didn't miss them either.
By eight years old Luke was top of his class at school but he still didn't have a home. Lots of kids around him had been given homes but not Luke. He wasn't worried – he'd never experienced any life other than the one at the Orphanage and as far as he was concerned, he was happy. The thought of being picked by a family and having to move into a new house scared him.
A year later when Luke was nine he was interviewed by a family that already had a little girl. He thought this interview would be just like the rest of them and that he'd never hear from them again. A few weeks later and Luke was told he was going to live with the Patterson's.
The Patterson's were lovely people. They adored kids and after their first adoption of a 3 year old girl they decided they wanted a boy as well.
Mr Patterson was a partner in the law firm Simpson and Patterson and Mrs Patterson was a devoted mother. They lived in a big house on a lifestyle block just outside the city. The family wasn't short of money and nothing was ever spared.
On his tenth birthday, Luke got his very first bicycle. Mr Patterson spent many of his Saturday morning's teaching Luke how to ride. Luke and his little sister Emma would bike to school each day and have races with the other kids in the neighbourhood. Luke loved to ride his bike during the fall when the streets were covered in leaves. He would race down the street and send thousands of leaves dancing and twisting behind him.
During the school holidays the family would go away to their holiday home by the beach. They had a great batch right on the shoreline. Days were spent fishing and paddling and crawling over the rocks to see what sealife they could catch in the rockpools. Mrs Patterson would sit on the deck keeping a close eye on her precious children. She would sit there for hours doing her cross-stitch with a smile on her face. She felt blessed that her family was complete and that her children and husband were happy.
This was a whole new world for Luke. Luke liked his new life but in some way he felt detached from it as well. He was sure he loved the Patterson's but he'd never experienced love before.
In the summer of the next year Mr Patterson had three weeks off work when he got an ulcer. The doctor said it must be stress that brought it on but Mr Patterson wasn't convinced. Work was great – sure he had deadlines but nothing really ever got him stressed.
A month later and Mr Patterson was admitted to hospital. His ulcer had flared up again and he needed to rest in bed for a few days. But as the week wore on Mr Patterson got worse rather than better. The Doctors didn't know what was wrong. They tried different antibiotics and medicines but he wasn't responding to any of them. On the Friday afternoon Mr Patterson's body gave up fighting.
Apparently Mr Patterson was one of the very first cases of the virus. No one knew at the time.