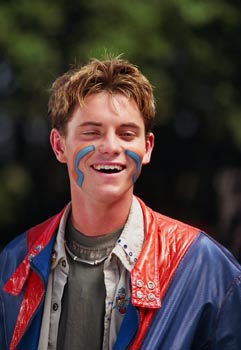 Who would be your ideal celebrity date?
Michael – Roseanne….no, Britney Spears
Sum up why someone would want to go out with you
Michael – Because I'm desperate. No, I don't know why anyone would go out with me.
What is the most romantic thing you have ever done?
Michael – I don't really know.
What is your worst dating crime (most embarassing)?
Michael – I forgot my Ball dates name momentarily when introducing her to my headmaster.
Are you romantic?
Michael – Um, don't really know.
What lengths would you go to win a girl/guy?
Michael – Depends on the situation. If I really loved her I'd probably do anything.
What would your ideal evening be with a loved one?
Michael – In bed. No, dinner on a boat at night.
Have you ever had any rumours spread about you and romance?
Michael – Apparently Britney Spears likes me or something silly like that.
What was your first ever date?
Michael – Can't really remember.
Do you go Dutch or insist on paying?
Michael – If she's rich, she can pay. I don't mind being a house husband.
At what stage in a relationship do you take a partner to meet your parents?
Michael – Don't know, never gone out with someone that long.
Do your parents or mates influence your decision in the type of person you go out with?
Michael – No
Do you have a current partner?
Michael – No