Tribe Magazine!The first German Tribe Magazine sold out so quickly and now a second one is on the way!

The second German Tribe Magazine is almost here! It's got free giveaways, giant posters, behind the scenes gossip and exclusive photos that you've never seen before!

We'll have more information soon on it's release date.

The magazine will be available to buy in all leading supermarkets and kiosks etc in Germany, Austria and German speaking Switzerland – so look out for it!!

Tribe Tour 2003!!

Wow! The planning for the tour is well underway and there are many exciting things planned while the cast are touring Europe.

The cast have been busy again this week and so have the Fan Club staff! The tour is shaping up to be big, bold and bustling with heaps of signing sessions, personal appearances, competition lunches and interviews.

The schedule is getting very full and we hope to be given the go-ahead to let you in on what the itinerary will be in the next couple of weeks.

For the latest information and reports check out the "Tour Diary" which will have a daily report once the tour starts including video clips, exclusive photos and more!!

Click here for the latest report on the "Tour Diary"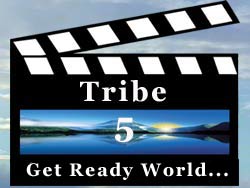 Tribe Tour 2003 Competition!
In the next day or so we'll be announcing a fantastic competition that could see YOU having a one on one meeting with the cast on the tour!
Keep checking into the Guide News for more information!
Five Weeks to Go!
Tribe 5 is due to start airing on Five in the UK on Saturday March 15th 2003.
The storylines are amazing and there's some stunning twists that will have you fixed to your television every Saturday!
The countdown has begun!!
Get Ready World…
Until next week,
Stay Tribal and Keep the Dream Alive…