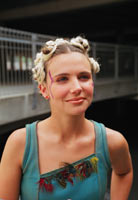 A Message from Raymond ThompsonHi Tribeworld,

I just wanted to take this opportunity of thanking all the fans for their kind wishes on the occasion of filming the 250th episode of The Tribe. I know that all the cast and crew really appreicated your thoughts and messages.

I would also like to thank all those who wrote to me personally. Your messages have been put into a scrapbook and we will soon post photographs of the scrapbook on the website for you to see.

We will also provide some behind the scenes exclusive photographs of the 250th celebrations which occurred yesterday evening in NZ. So keep checking.

Finally I would like to thank each and every one of you for your support. The Tribe certainly wouldn't have reached this important milestone without it.

Keep the dream alive – and we might be reporting and providing you information on the 500th episode.

Whatever happens.

Stay Tribal…

Tribe Tour 2003 Competition!

Here it comes!! Here's your chance to win a dinner with the cast in London!! Three winners (plus a guardian if under 18) will get to have dinner with the cast at a London restaurant during the tour.

To answer the competition question you'll have to look around the site to find the answer!!

And the question is "What is Meryl's favourite shop in London?"

Please send your answers with your name and address to tourcomp@entercloud9.com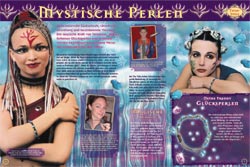 Tribe Magazine!
The first German Tribe Magazine sold out so quickly and now a second one is on the way!
The second German Tribe Magazine will be jam packed full of free giveaways, giant posters, behind the scenes gossip and exclusive photos that you've never seen before! Including a two page spread on James Napier!
We'll have more information soon on it's release date.
The magazine will be available to buy in all leading supermarkets and kiosks etc in Germany, Austria and German speaking Switzerland – so look out for it!!
Tribe Tour 2003!!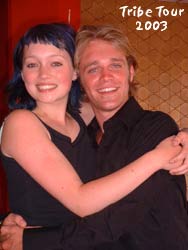 The Tribe Tour 2003 continues to hot up with plans taking shape and more countries being added to the list.
The tour starts in Frankfurt Germany on March 10th with the cast travelling around Germany in their tour bus for 10 days.
The next stop is Scandinavia where they'll be visiting Finland, Norway, The Netherlands and Denmark.
Then it's off to the UK with signing sessions all over the country!
The itinerary is filling up and we'll have more details as they are confirmed.
For the latest information and reports check out the "Tour Diary" which will have a daily report once the tour starts including video clips, exclusive photos and more!!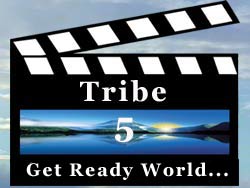 Four Weeks to Go!
Tribe 5 is due to start airing on Five in the UK on Saturday March 15th 2003.
The storylines are amazing and there's some stunning twists that will have you fixed to your television every Saturday!
The countdown has begun!!
Get Ready World…