New Tribeworld!Tribeworld has had a makeover and the new site will be going live within the next 24 hours!! The new site has a more functional layout and room to grow! We'll be adding new sections to the site over the next few months and we're sure you'll love it!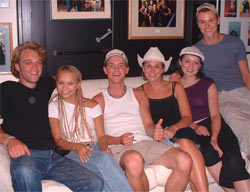 Tribe Tour 2003!!
The Tribe Tour 2003 isn't far away! There are now seven cast members going on tour – Meryl Cassie, Beth Allen, Anotonia Prebble, James Napier, Danny James, Michael Wesley Smith and Tom Hern!
The itinerary is getting full and there's going to be plenty of public appearances! The tour starts in Germany with the cast also visiting Finland, Norway, Denmark, The Netherlands and the UK!
For the latest information and reports check out the "Tour Diary" which will have a daily report once the tour starts including video clips, exclusive photos and more!!
Tribe Tour 2003 Competition!
Here it comes!! Here's your chance to win a dinner with the cast in London!! Three winners (plus a guardian if under 18) will get to have dinner with the cast at a London restaurant during the tour.
To answer the competition question you'll have to look around the site to find the answer!!
And the question is: "What is Meryl's favourite shop in London?"
Please send your answers with your name and address to tourcomp@entercloud9.com You must get your answers in to us by Friday 28th February!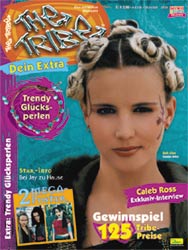 Tribe Magazine!
The second German Tribe Magazine is not far away!!
The second German Tribe Magazine will be jam packed full of free giveaways, giant posters, behind the scenes gossip and exclusive photos that you've never seen before! Including a two page spread on James Napier!
The Magazine will be in stores from 6 March 2003 – Fans can bring along their mags to the airport to get them signed by the cast!
The magazine will be available to buy in all leading supermarkets and kiosks etc in Germany, Austria and German speaking Switzerland – so look out for it!!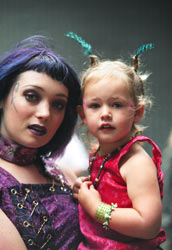 Three Weeks to Go!
Tribe 5 is due to start airing on Five in the UK on Saturday March 15th 2003 at 12.00pm.
The storylines are amazing and there's some stunning twists that will have you fixed to your television every Saturday!
The countdown has begun!!
Get Ready World…
So keep checking out the site! You never know what you're going to find!!!!
Until next week,
Stay Tribal and Keep the Dream Alive…