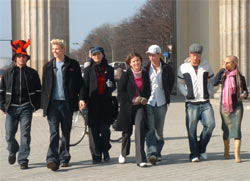 Tribe Tour 2003 – A huge success!!
The Tribe Tour 2003 has now come to an end. The cast arrived back in New Zealand yesterday and are going to have a much needed rest before some of them head back to university.
The tour went amazingly well. The cast travelled to seven different countries, made many public appearances and met thousands and thousands of fans around the world. The whole tour was packed full of publicity, from newspapers and magazines to webchats and photoshoots and of course the public appearances and live tv broadcasts.
A new Tribe Tour video will be put together over the coming weeks showing a behind the scenes view of what the cast got up to and will be available to buy through the fanclub so look out for it!
To catch up on what the cast did throughout the tour visit the Tour Diary Reports.
Spirit Symphony
Following the success of the European Tour there is a rare opportunity for the New Zealand fans to see the stars of The Tribe many of whom will be attending the premier of the Spirit Symphony which has been composed by Executive Producer and Creator of The Tribe Raymond Thompson.
It occurs on Wednesday 16th April 2003 at the Michael Fowler Centre in Wellington.
Bookings can be made through Ticketek on (04) 384 3840
Proceeds from the evening go to the Cloud 9 Children's Foundation, Cloud 9's charity for children with Aspergers Syndrome.
The evening promises to be an exciting event with other stars from the stage, screen and sporting world being in attendance.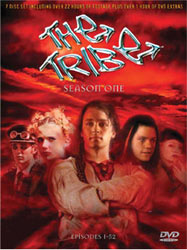 Tribe DVD's and Video's!!!
The Tribe Series 1 DVD's and Video's are running out the door! They're selling fast and they shot up to number 15 in the charts in the first week!
The DVD's and VHS's as well as having the entire first series also include special features such as The Making of The Tribe, Tribe on Tour 2002 and the first Bloopers video.
You can find them in all good retail outlets as well as at www.amazon.co.uk
Don't miss out!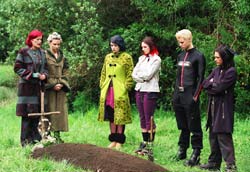 Tribe 5 on Five!
Episode 5 this weekend!! Prides funeral takes place as Salene's heart breaks. May is forced further and further into the dark side and Jack is cornered by Zoot – a real flesh and blood Zoot!
To find out more about the latest episodes check out the Plot Synopsis!
Catch The Tribe on Five every Saturday at 11.55am – Don't miss it!!