Tribe DVD's and Video's!!!

The Tribe Series 1 DVD's and Video's are selling fast! You can find the box sets in stores throughout Germany, the UK and France.
The DVDs and VHSs, as well as having the entire first series, also include special features such as The Making of The Tribe, Tribe on Tour 2002 and the first Bloopers video.
Get yours now!
Tribe 5 on Five!
Next week Pride has a dying wish and Ebony makes her vows in a wedding ceremony with her sisters. Don't miss it!!
Catch Tribe 5 on Five in the UK at 11.55am every Saturday.
Tribe Tour 2003

The tour is in its last week! Four weeks has flown by and everyone is feeling a bit sad about heading home.
The last week has been fantastic! The cast have been meeting lots of fans at the signings and there's been a few competition winner lunches which are always great!
This week there is a signing in Bristol on Wednesday 2nd April at 4.00pm at Big W and we hope to see you all there!
Read the tour page and the tour diaries for all the latest gossip of what they've been up to and how things are going http://www.tribeworld.com/tribetour/
Happy Birthday Meryl!!
Tomorrow (2nd April) is Meryl Cassie's 19th birthday! We've got a great day planned for Meryl in London including a pampering session with a massage and a few pressies. Happy Birthday Meryl!!
Tribe Tour Jacket Competition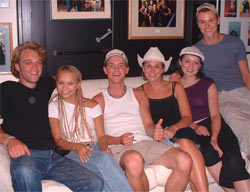 Look out for a competition coming soon!! A Tribe Tour Jacket could be yours – there will be a special competition on Tribeworld in the coming weeks so keep a look out to win a Tour jacket!!
What's New on Tribeworld.com!
There's lots of great new articles on Tribeworld this week.
Plot synopsis of Episode 4 Series 5
Interview – And now for something completely different with Antonia
Tribemaster – knows a little more…
So keep checking out the site! You never know what you're going to find!!!!
Until next week,
Stay Tribal and Keep the Dream Alive…