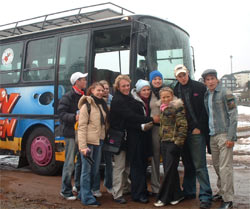 The cast with some of the competition winners
Dear Tour Diary,
Tuesday 11th March 2003
Talk about freezing! After breakfast we headed outside and jumped into a horse and carriage and made our way up the hillside to the Biathlon Stadium in Oberhof. The icy wind was blowing at us, luckily we had some warm blankets to snuggle under and we were able to enjoy looking at the cute little town and the people slipping on the ice. We jumped off the carriage and walked up to the indoor shooting range, the only trouble was that we had not thought that there would be any snow on our travels and we were ankle deep in snow and soon found that our socks were and our toes were freezing but it was nice to get in the fresh air after being in the studio all day yesterday and we had a good time throwing snowballs at each other.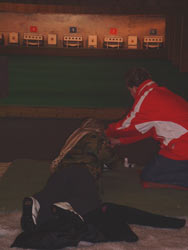 Meryl lines up the target
When we got into the shooting range we met 8 fans who had entered the KIKA and YAM competitions and proceeded to take part in a shooting competition. We had met these fans yesterday at KIKA studios so it was as if we were having a day out with old pals. They were a really cool group and better at hitting the targets than we were!
A nice warm drink and a walk back to the hotel was followed by a barbecue lunch of local sausages and then it was time to go to the wood jump. This was an amazing construction – we had to put on harnesses and helmets and were divided into two teams – one team got to climb a very large pole. This pole had little metal foot grips to climb up it and we climbed up individually. Once at the top of the pole we had to stand up with our arms outstreched which was really scary because the pole was so high the wind was blowing and we were wobbling all over the place. After standing up we had to jump off the pole into
thin air but it wasn't quite bungy jumping because the rest of the team were hanging onto safety ropes which meant that the climber was suspended in mid-air and let down gently.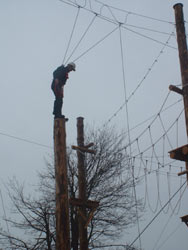 James at the top of the Wood Jump
The other team took part in the giant swing. The team members hoisted up the swinger as high as they were able to stand it and then the swinger was released and swung manically back and forth. There was lots of screaming, lots of fun, lots of snow and laughter all round.
Everybody got on the tour bus and presents were handed out by the fans which meant a great deal to us. It was great to meet such amazing people and nice to
spend such a fun day with them.
We all went back to the hotel for some photos before we waved goodbye to them and headed off on our way to Stuttgart. We spent a few hours in the bus all snuggled up under our duvets with Michael being the DJ and playing all his favourite tunes on his laptop (which put us all to sleep hehe)
We arrived in Stuttgart to a beautiful hotel and are looking foward to a lie in tomorrow morning before our book signing at 4.30pm at Karstadt in the centre of Stuttgart. See you there!!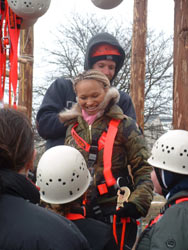 Meryl gets harnessed up
The Touring Tribe
Tribe Tour 2003 – Bringing the Dream to the World…