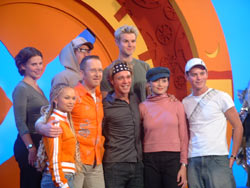 The cast with one of the KIKA presenters
Dear Tour Diary,
Monday 10th March 2003
Wow, ore waffles for breakfast. How are we ever going to get use to having plain old cereal again?
After breakfast, we all hopped onto our fantastic bus and headed off to Kika studios. The Kika camera team came along for the ride and filmed us as we travelled.
We arrived at the studios in Erfurt and got shown to a wonderful room that was full of drinks and great things to eat The kika team always make sure that we are well taken care of.
We were shown into the studio itself where we had to rehearse for the live show. Some fans had entered a competition where they had to make things that were Tribal. There was a cool puppet box with little Tribal dolls and another fan made an amazing Ebony puppet.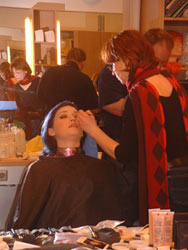 Antonia in the Makeup chair
It was really weird for us at the rehearsals. We had little ear pieces that a translator would tell us what the questions were in English. We got to watch a bit of the Tribe series 4 and heard our character voices in German for the first time and that was really funny!
We then had some time to relax in our room and then we headed off for a photo shoot and got to meet some fans, which was awesome. We are always amazed at how much trouble people go into when they make or buy gifts for us and we have a little corner in the bus were we have set out all the pressies, cards and things.
When we are in the bus we have the time to have a good look at everything.
Lunchtime and it was lovely, a really nice sunny day, so we were able to get some fresh air and awaken up a bit. Jet lag is a crazy thing, but we are just starting to get over it now.
After lunch we had some photos taken by YAM! and then we were interviewed by some local children. After this we went into the studios, where we filmed the live Kikania special and we got to play a crazy game, where we had to jump on tires and grab fish, which was all great fun. The boy's team won, go Danny and James!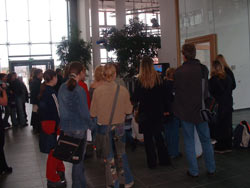 Fans watch the live show at the KIKA studios
When the show was finished we got to meet some of the fans, who had come to see us at the studios, then we went to a local bookshop called Buch Habel were we were greeted by around 400 fans. We managed to meet most of the fans, but unfortunately we ran out of time and had to leave. Some of the fans chased the tour bus through the streets of Erfurt and waited outside the hotel for us chanting the Tribe.
After getting changed we went for dinner, a cup of tea and a calm down. We jumped into the bus and drove to the mountain village of Oberhof. There was snow on the ground and we were glad to get into our snug warm beds, for a cosy sleep.
The Touring Tribe
Tribe Tour 2003 – Bringing the Dream to the World…