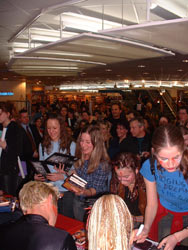 Dear Tour Diary,
Saturday 8th March 2003
An early start for everyone. We had breakfast and organised ourselves for the day. Everyone was very excited about the first book signing session in Damstadt. Everyone changed into their costumes and we all put on our own makeup which was something we haven't done before but it all worked out great and we were ready for the drive to Damstadt!
We left Frankfurt and the drive took about an hour. We were all a little nervous but also excited.
When we got to the bookshop we could see a long line of fans waiting in the store and we couldn't wait to meet them. There was a stage set up and a large table for us to sit at. The fans were amazing! They were all really nice and brought us lots of goodies and presents. I don't know who was more excited, us or them. Some of them had even brought us a video tape of our arrival at Frankfurt airport!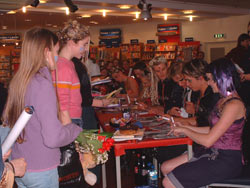 We sat for almost 2 hours signing autographs on books, posters, and even someone's laptop! We had such a great time!
Unfortunately time ran out and we were unable to meet all of the fans who had lined up for so long. We felt so terrible about this but we know that the bookshop was going to hand out some signed cards from us.
We left the bookshop and gossiped about the day on the bus as we drove to Erfurt. Everyone quietened down for a while and realised how exhausted they were and we all got a couple of hours sleep on the bus.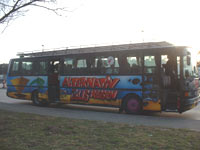 We arrived in Erfurt to a lovely hotel and sat down for dinner. We were exhausted but in good spirits. We all got an early night ready for another big day tomorrow.
Sunday 9th March 2003
A full day with KIKA today and the cast were split into groups for a portrait photoshoot. Michael was taken toa local gym where he was able to kick around a soccer ball, practice his headers and bicycle kicks. Michael loves football! Antonia was taken to an icecream parlour where she learnt how to make some fantastic icecream sundaes and then made up her own Tribal sundae and Meryl and James were taken to a local Music store where they jammed a special tribal song with James accompanying their vocals on guitar.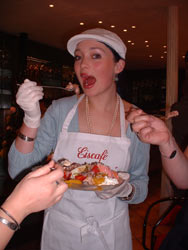 Then it was a quick dash to a beautiful local theatre where Meryl, James, Antonia and Tom performed a Haka (a traditional Maori war dance) and then had individual interviews which will be shown on KIKA.
Beth and Danny had the day off and managed to take in some of the sights of Erfurt including the beautiful cathedral.
When the sun went down we all went for an Indian meal and walked back to the hotel enjoying the lovely still night. But boy was it cold brrrrrrrrrrrr!
The Touring Tribe
Tribe Tour 2003 – Bringing the Dream to the World…