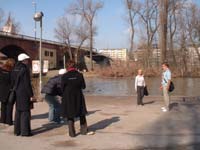 Dear Tour Diary,
The beds here are so comfortable! We all had the best night's sleep ever and woke up to the amazing sight of Frankfurt from our balconies. The church bells were ringing and the sun was shining which put us in the mood for a good day off.
After a yummy breakfast we headed off to a local supermarket to stock up on goodies for the bus – the cast love German chocolate. Then we had a lovely walk into the city passing the river and chasing a few ducks.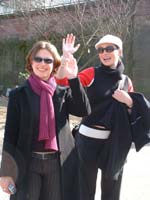 We came across a gorgeous old town square with cobbled streets and quaint buildings. This was something that really thrilled us because we're not used to seeing such things in New Zealand. Tom tried sauerkraut and frankfurters for lunch but the rest of us stuck to chips and salad.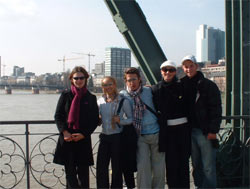 We had a look at some of the local shops and were pleased to meet several fans in the street. We tried some pretzels and then made our way back to the hotel and had the experience of travelling on a bus. Some of the locals gave us some strange looks when Tom started rapping and singing on the bus!
We found a nice Italian restaurant near the hotel and sat down to a lovely dinner, by this time we were pretty tired as jet-lag had set in and our bodies were finding it hard to eat pizza when it should have been 7.00am in the morning New Zealand time.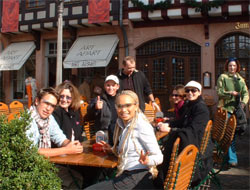 Back to the hotel and our comfy beds for another good night's sleep to make sure that we are wide eyed and bushy tailed for tomorrow's book signing tomorrow at 2.30pm at the Buch Habel, Darmstadt, which we are really looking forward to.
The Touring Tribe
Tribe Tour 2003 – Bringing the Dream to the World…