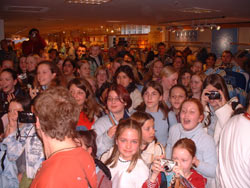 800 people came to the signing in Stuttgart
Dear Tour Diary,
Wednesday 12th March 2003
Stuttgart – We were all really refreshed this morning. The beds are really comfortable and we were all happy to get a good nightís sleep.
We spent the first part of the morning signing the latest German Tribe books. Theyíre fantastic books and they are selling fast! After that we had a bit of free time to take in the sights of Stuttgart. We did a bit of shopping which is great ' we all love shopping and quite a few things are cheaper over here than New Zealand.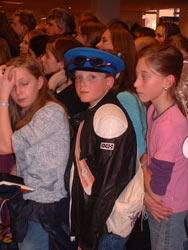 A Zoot fan
We all came back to the hotel for lunch. The portions of food over here are huge and we struggle to eat it all!
After lunch each of the cast had a quick interview with a Christian charity which wanted to know what the cast thought about survival. We really enjoyed this as The Tribe is all about survival.
Then we jumped into our costumes and put on our makeup ready for the book signing in the city. There were 800 fans and they were all really excited and really friendly. We spent 2 hours there meeting everyone and signing autographs – we find it so rewarding to meet fans who love the show. We really love our jobs and itís so satisfying to know how many people love The Tribe.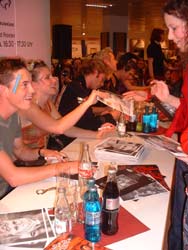 The cast signing away!
Back to the hotel where we quickly changed out of our costumes and got ready for dinner. Tonight dinner was fantastic and we had a competition winner join us. She was lovely and her English was really great . The meal was lovely and we had some great laughs. After some photos we headed back to the hotel and weíve got another great day planned for tomorrow.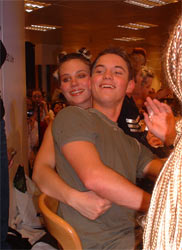 Mike and Beth pose for a photo
The Touring Tribe
Tribe Tour 2003 – Bringing the Dream to the World…