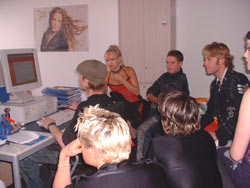 The live chat with Marc at YAM!
Dear Tour Diary,
Thursday 13th March 2003
What a busy day! We had to wake up early and after breakfast we checked out of our Stuttgart hotel and drove to Munich which took us about 3 hours as the traffic was pretty bad.
It was nice to see Munich again – Meryl and Michael have both been here before on the tour last year.
The hotel was amazing with these huge flat screen televisions that are interactive but there was no time to play with them – we had to get straight into costume and make-up.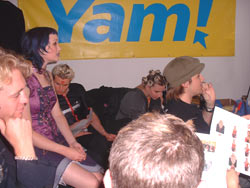 More live chatting on the webcam!
We travelled to the YAM! Building and took part in a live web chat with German fans.
Why did we have to be in costume and make-up you ask? Because there were webcams watching us! That was a strange experience and there were some really interesting questions and we really enjoyed ourselves.
We were also interviewed by some German magazine journalists and we always enjoy being interviewed.
We have met so many fantastic people – they say that New Zealanders are friendly but we're finding that the Germans we have met have all been amazing and so supportive and helpful. We have been so lucky and truly enjoy meeting new people.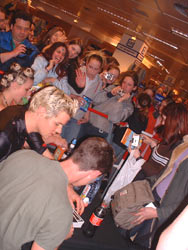 So many fantastic fans at the Munich signing!!
After the web chat we said farewell to our friends at YAM! They're a great team of people who are really behind The Tribe and we have a fantastic time whenever we are with them.
Off to a local store for a book signing and we were blown away once again by the amount of people who were willing to come out on a cold winters night to see us and bring us so many presents! We had a brilliant time and it is fair to say that this must be one of the most enjoyable parts of our jobs – to be able to meet fans is just great and we are constantly humbled by the fact that people get so much from the show that we are in. There were 700 people and we managed to get to meet every single one of them which was fantastic.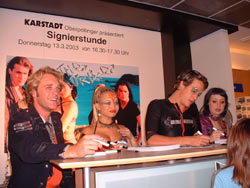 More signing in Munich!
Back to the hotel and an early night. We ordered room service and snuggled down into our comfy beds to watch German TV and dream of another wonderful day in Germany.
The Touring Tribe
Tribe Tour 2003 – Bringing the Dream to the World…