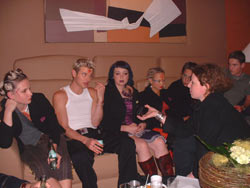 Interview with Thomas Cook Magazine
Dear Tour Diary,
Friday 14th March 2003
Another busy day and guess what? It was snowing today! We were all so excited as we haven't seen too much snow before. We all had breakfast and got ourselves ready in make-up and costume for an interview with the Thomas Cook magazine that is put on all European flights. They will do a special feature on ecology and the environment and wanted to feature The Tribe because it follows some interesting ecological storylines. We were asked questions about such topics as water conservation and animals, life without adults and how to find food.
We then had an interview with Sugar magazine who sell hundreds of thousands of issues in Germany every month. We answered questions about friendship and what we do in our spare time as well as about the upcoming series of Tribe 4 that has just started in Germany. Look out for the issue which should be out in June.
Photoshoot with Sugar Magazine.
After that we headed out into snowy Munich and arrived at a bus station where we had a photo shoot with Sugar magazine. It was pretty cold but we think that they would have shot some funky pics against the white and blue background.
Then it was back to the hotel for showers to warm up and a hot chocolate or two before we got back on the bus and began our journey to Berlin. It was an 8-hour drive and we stopped a few times for snacks. The rest of the time was spent sleeping on the big mattress at the back while Tom, James and Meryl worked on an R&B track together.
It was nice to be in the bus, which we look at as a home away from home. We all have our own little areas that we stick to and we love just hanging out together, jamming away and looking through all the fantastic letters and presents that we have picked up along the way.
It was great to arrive in Berlin. We're really excited about seeing some more of Germany and checking out some historical places while we're here and the book signing should be a good one.
Don't forget to come along at 14.30hr – 15.30hr
Saturn
Schlossstrasse 110
12163 Berlin
See you there!
The Touring Tribe
Bringing the Dream to the World