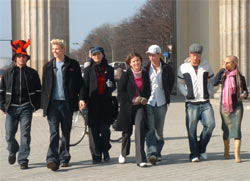 The cast at the Brandenberg gate
Dear Tour Diary,
Saturday 15th March 2003
Up, up and away around Berlin today with the Logo team from ZDF (a broadcaster in Germany). It was really cool because we were able to get to see some of the amazing sights of Berlin including the Government House and the Brandenberg Gate. We cruised around Berlin in our tour bus and we were recognised by lots of people all around the town.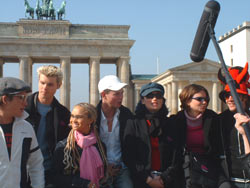 The cast being interview by Logo
It was incredible to see some of the buildings that remained from the Second World War as well as remnants of the Berlin Wall that separated East and West Berlin.
We stopped for a typical Berlin delicacy, curry sausage and curried fries and we liked them a lot! Danny finished up all the bits that we didn't want to eat and he was still hungry for more!
Time to head back to the hotel where the Logo team filmed us getting ready for the signing in the afternoon and it was strange to be filmed while we tried to do our own make-up.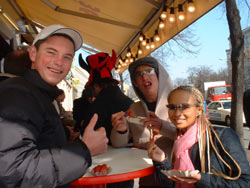 Michael, Tom and Meryl
try curry sausages
We jumped back on the bus to head over to the venue which was an hour's drive outside of the central city.
It's always strange to have to walk through a hotel in full costume and make-up and we certainly get stared at by all the business people and tourists!
We arrived at the venue and it was intense, about a thousand screaming fans and we were so pleased to be able to meet so many of you once again.
We were pretty tired afterwards but the adrenalin from the event carried us through in our trip back to the hotel where we all got changed and showered so that we could go out for a lovely dinner with the Tribeworld.de competition winners who were all just gorgeous.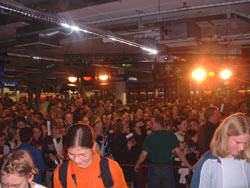 The huge crowd at the
album signing in Berlin
We went to a funky place called Kid Creole's and had a big feed before saying goodbye and going back 'home' to our rooms for a nice long sleep before our final day in Germany tomorrow.
Don't forget to look out for us around Berlin, we'll be with another camera team, this time from Orb and we'll be visiting the Imax cinema and the television tower before we have to get to Tegel airport for our 7pm flight to Helsinki, Finland.
The Touring Tribe
Bringing the Dream to the World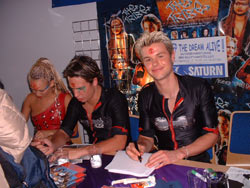 Meryl, Tom and James
at the signing session