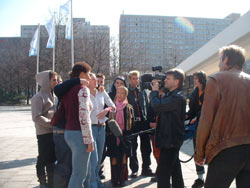 The cast filming with Relaxx
Dear Tour Diary,
Sunday 16th March 2003
Today was our last day in Germany and we had a great time! We were met at the hotel by the Tribeworld.de fan winner, Brid who came with us for the whole day. We started off by meeting the Relaxx team from Orb television and drove to a spa centre where Danny and Michael got to go into the relaxation tank. This was basically a small pool which had a very high salt content and that meant that your body could float in it. Under the water there was relaxing music playing and soft lights so that when you put your head under the water you could hear the music and felt totally elaxed. There was a real sense of weightlessness and your body was moved gently through the water by the pulsating music.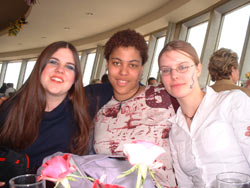 Competition winners Brid, Antina and friend.
After that experience it was on to the TV tower which is huge! We got to go right up to the top and boy, what a view! We got some strange looks from all the people in the queue but we didnít mind as it was such an awesome experience and we got to see all of Berlin from up there. We went up one more level to the revolving restaurant where we were interviewed by Relaxx host Mark and got to watch the changing scenery of Berlin as we revolved round gently. We also got to have a drink with another fan winner, Antina who brought a friend along and took heaps of pictures and asked a lot of questions that all the Berlin fans wanted to have answered.
After we came down the tower we drove to the IMAX cinema where we got to watch a fantastic movie all about Wildlife and the environment before we got back into the bus and headed off to the Berlin office to sign some of the DVD boxes and Tribe books.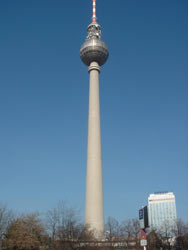 The TV tower –
what a great view over Berlin!
We got changed out of our costumes and jumped back on the bus for the last time as we headed off to the airport and hopped on a plane bound for Helsinki. It was a good flight and we got to see some of the German countryside as we flew over. Then we got to Finland where we were met by screaming fans who had braved the extremely cold night to come out and say hello to us which was hugely appreciated.
We got to the hotel and checked in, exhausted by the day and sad to have left Germany but really excited to be in Scandinavia. We have a day off tomorrow so we will go shopping for thermals as it is mighty cold here! We will also have a lie in for a change and have some time to look at all the wonderful presents, cards and letters that we got when we were in Germany.
The Touring Tribe
Bringing the Dream to the World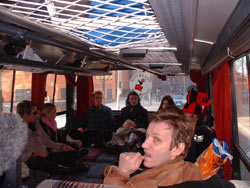 A quick interview on the tour bus with Relaxx