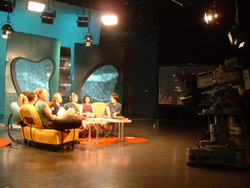 On set at YLE in Helsinki
Dear Tour Diary,
Tuesday 18th March 2003
After a nice relaxing day off yesterday we had an early start – well some of us did! Beth and Danny were up and ready at 7.45am for an interview with a morning radio show. They were taken to a local establishment where they had a drink of beer as the host told us that was what was traditional to do before work in Finland. Of course it is not a tradition but at least it will give the listeners something to chuckle about tomorrow morning!
Then it was everyone off to YLE, the national broadcaster for Finland. There is snow everywhere and the drive was really beautiful. We've never been anywhere where the sea has been frozen!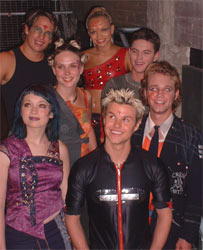 Posing for the press
At YLE we got into costume and makeup. We had a quick photoshoot outside in our costumes with the TV guide and it was freezing! But we hopped back inside and had a hot lunch which warmed us up.
Then we had photoshoots and interviews with local media and a couple of fans that YLE had invited to spend the day with us.
After that we did a live children's show which was really cool. The set was really nice and everyone at YLE is lovely. We were asked questions that fans had sent in to the station and we told the viewers a little bit about what to expect in series 5 which airs in Finland in June of this year.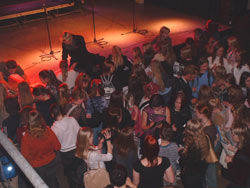 At the fan signing in Helsinki
A short drive past the frozen sea again to a rock club where we were interviewed by heaps of media journalists and we had so many photos taken that we can still see flashing lights now!
We went downstairs to the main floor where all the fans were waiting patiently for us and we answered some questions and then signed autographs. Again, every single person we met was lovely and they gave us so many presents that we could fill a whole plane on the way home!

James chats to the fans
Back to the hotel and we got changed for dinner. Some of the people from YLE took us out to a great place for food and then we had a bot of a dance before returning to the hotel and made sure our cases were packed, ready for the trip to Oslo tomorrow.
The Touring Tribe
Bringing the Dream to the World