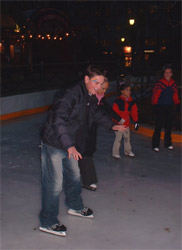 Michael steps onto the ice
Dear Tour Diary,
Wednesday 19th March 2003
Well, what a way to start the day! A nice lie-in at the hotel before we checked out and drove to Helsinki airport where we had a fond farewell with the team from YLE who looked after us so very well. Once we had checked in for our flight we had some time to look at the shops and there was plenty to see from Moomin toys and books to typical Lapland products and clothing.
The flight to Oslo was amazing, there was a camera situated at the front of the plane and we got to watch the take  off from the in-cabin tv screens. What an incredible experience, it was like being on a theme park ride!
There was some beautiful scenery on the way to Norway and we saw heaps of snowy mountains and lakes. We feel so lucky to be seeing so much of Europe and Scandinavia.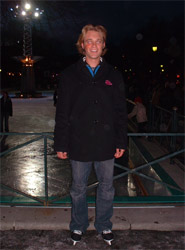 Danny turned out to be a great skater!
In to Oslo and we were met by an NRK camera team (the broadcasters who air The Tribe in Norway) and two competition winners. They had to send in photos of themselves to NRK in tribal make-up and they were delighted to have won the prize of getting to spend time with the cast.
Off to the hotel and we were all struck by the beautiful scenery of Oslo, what a gorgeous city!
We had a bit of time to get our make-up on before we were picked up by the coach and taken to the centre of the city where there is a great ice skating rink surrounded by trees and the neon lights of the city.
There were hundreds of fans waiting there for us and they watched us trying to make our way across the ice. Some of us were better at skating than others but we all had the best time!

Toni gets into her skates
After 15 or so minutes of sliding around trying to look like we knew what we were doing we got up on to the stage and answered questions from the fans. There was a bit of a tribal quiz followed by a performance of You Belong to Me by Meryl with the rest of us dancing in the background. She's such an awesome performer and it was great to see that so many of the fans knew all the words.
We hopped off the stage and signed autographs for quite some time, there seemed to be no end to the line of fans who were waiting in the cold night air to see us and they all had tribal make-up on. It was a really special night for us, we had the best time!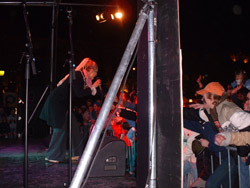 Meryl perfoms "You Belong to Me" to the crowd
Back to the hotel for another rest before we were taken out to dinner by the lovely NRK team and we had a wonderful meal and some great conversation.
Then it was time to jump into our fluffy beds ready for another good night's sleep full of dreams of all the sights and sounds of the tour.
The Touring Tribe
Bringing the Dream to the World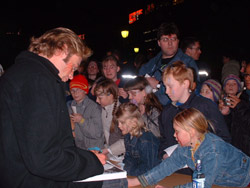 The cast signed autographs
for all the fans after the show