Discovering that I had won it was an experience I don't think I'd ever felt before.
Checking the news pages is my first port of call whenever I visit Tribeworld, after clicking it a message appeared to congratulate a Duncan Rogers, my first reaction to which was to presume that another Duncan Rogers had won an evening with the cast after the Tribal Gathering at the Hippodrome.
An email confirmed my success; it was true… So I was finally going to meet the people who had adorned my television screen in the show I had been following avidly since its infancy? Wow.
Then followed a week of the most intense anticipation I had ever experienced, I knew that the gathering itself would be something to remember for a very long time. My friend Fred signed into messenger and when I told him I had won we laughed for about 10 minutes about it. We were to set off on the Saturday morning from Oxford, with an ETA of around 11 at the Hippodrome door. The mass of people waiting outside, garbed occasionally in impressive tribal attire must have been quite a site for anyone who didn't know what was taking place.
When the doors of the drome opened and we stepped in the heady Tribal atmosphere hit us, never before had I seen such a concentration of people who shared my passion for The Tribe. I took my place at the foot of the stage, why anyone would want to stand any further away from it at that point was beyond me. Mr Longman, the organiser and MC welcomed us all to the event. We were told to scream as loudly as possible in order to bring the cast out. As we screamed a section of the stage slid aside, dry ice arose, followed by four very familiar heads.
Autographs were being signed as the episode was shown on a projector, with every character's appearance was a terrific cheer, the largest cheer of them all however came when KC told Alice he had been with Bray not long before, the return of so many old characters shook up a lot of nostalgia among the audience. At the point nerves very nearly overcame me, during the question time Fred did what he does best and shot his mouth off at every opportunity. Though I didn't tell him at the time I was really relieved that he was getting stuck in.
During the video of the previous Tribe tour that took place in the Spring I received my first autograph from Matt Robinson. I told him I would be spending the evening with him at Pizza express, aware that he shared my love for proper music I looked forward to the conversation later in the day. I graciously received my signed picture and jumped onto the end of the "Caleb queue". Caleb has always been someone I've had an incalculable degree of respect for, Lex is the only character to have appeared in every single episode, so for me he personifies The Tribe. He signed a picture of himself, and after telling him that I was to be spending the evening with him I took my place in Meryl's queue. Meryl is so cool! Ebony is totally the best character in The Tribe, in many ways the most complicated and multidimensional character in it. I actually thought that Meryl was going to tell me that they had made other plans for after the gathering; luckily everything was still on course, and Beth was next… Eek! I was nervous in a way I hadn't yet felt that day, since series one Beth has always been someone I've been rather fond of, Fred nudged me, best friend's intuition told him that I must be full of Butterflies and various other flying insects at that point. I told Beth that I had won the competition; she shook my hand, and told me that her name was Beth. Then she told me that she was in this television show called The Tribe, I said I'd check it out some time.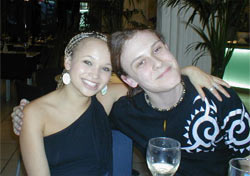 As the gathering drew to a close the raffle prizes were awarded to those lucky enough to have won them (to the Girl who won the chosen costume – What do you want for it, I must have it!) and the winners of the costume competition received copies of the new Album which I havebeen informed won't be released in this country for a long time. For most this awesome day was drawing to a close, but not for Fred and me. No! The cast rolled off to their hotel, I had a little time to burn, so it was off to a nearby pub for a couple of pints of liquid courage, just enough to settle my nerves of course ;).
When the time came we caught a cab to Pizza express, it was the most wonderful journey of my life, in the back of that taxi Fred and myself nattered with the driver, who had heard of The Tribe and congratulated me upon on my win. We past the Albert memorial and into sight of the restaurant itself, hopping out and strolling victoriously through the doorway to see Caleb and Beth chilling near the bar. It occurred to me that I enjoy chilling too, so after a warm welcome Fred and myself sat down with them and dived into a continuous and unrelenting conversation about all the subjects my uninhibited mind could muster.
Matt and Meryl joined us shortly afterwards, and I told them all about my love for The Tribe, how I haven't missed a single episode (including reruns) how I have lost sleep over the fantastic plot twists, how "The Dream Must Stay Alive" moves me every time I listen to it. In hindsight I must have gone into an overdrive of rhetoric, like I always do when I'm talking about The Tribe.
Soon we sat down for our meals. The menu was full of delicious looking pizzas and other Italian dishes, so I ordered another beer and a pizza, as well as this we all picked at the appetizers. I sat between Beth and Meryl, taking pictures of myself with both, Everyone seemed quite charmed by the closeness of Fred and Myself, how we casually insult one another, how we can finish each other's sentences and how Fred can keep me from going over the top.
I asked Matt if he would play the nearby grand piano for us, though when I come to think of it if someone plays on it without asking they probably get chucked out of the door. I told him that I was very impressed with his set earlier in the day and asked him if I could have a copy of the album he had compiled with his band. If you're reading this Matt, may I still have one please :D.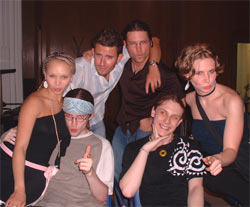 Sitting opposite Fred and Caleb the conversation somehow managed to wind up being about computer games, Caleb's taste in games is spot on, all the best games came out ages ago, and they don't make them like they used to! I told everyone about the story I had been writing for the past few years set in the Tribeworld, the original draft had been deleted a while ago, but I had a long and comprehensive appendix that I wrote separately if I ever wanted to do anything with it. I let them know that the fight scene that took place at the end of the episode that had been shown during the day was one of the best scenes I'd ever seen in The Tribe, and the revelation that Mega is Slade's brother is another reason why I love the show so much.
Meryl and myself discussed Ebony, she wanted to know why Ebony is my favourite character; for me it's the rousing speeches that she gives, the witty retorts and her uncertain intentions, how she may seem to be set in her ways to the other characters, but to the viewers she is human and indecisive. I told her that I love her singing, how when she sings The Dream Must Stay Alive it sends shivers throughout me every time I hear it. I spent a long time talking with Beth, I told her about some of the things I've gone through in my life, and what I'd like to do in the future. She let me know what she's been doing since production ended, how the current tour is far less exhausting than the previous one because at that time series 5 had only just been wrapped up and the cast were barely given a chance to breath. I told her that I've always been blown away by the sincerity of her acting, and that it'd be a dream job for me to be a writer for The Tribe.
As the night drew in around us we moved back to the table next to the bar and took a few more pictures. I finished off Meryl and Beth's ice cream along with Fred, had a cup of coffee and finally bid the cast and everyone there who had made this amazing day possible farewell. They drove off and disappeared around the corner, Fred and myself took the tube to Marble Arch and from there a Coach to Oxford. I miss them all incredibly and really hope I see them all again soon, we all got on like a flaming house, and I hope they enjoyed the evening as much as I did (which I have total recollection of I'd like to add).
Duncan Rogers