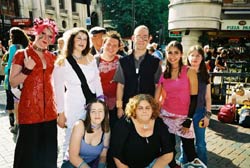 Unicef Gone Tribal 2003 – Amazing 7 strikes again!
After a long night putting the finishing touches to our outfits and scrapbook we hit the sack during the early hours of the morning, which lead to an abrupt awakening at 6am we stumbled out of our sleeping bags. Finally we had finished fighting over the bathroom in a mad panic, as there were six of us Billy, David, Wendy, Diana, Anne, and me. We had a quick breakfast of just toast and headed for the train then tube two policemen that were patrolling called us freaks but we just laughed it off. Although we had arrived early some fans were already camped outside fully tribal with markings and all, a few had even flown in! Standing right next to Charlie who I had met on a previous signing I hesitantly asked if it was her as she wasn't wearing her bandana. She introduced me to the notorious Laura but Natalie her partner in crime one of the amazing seven couldn't make it. We made Laura our honorary member so she could help finish off Natalie's section in the scrapbook. I also met Carly she had a stunning outfit and striking pink hair.
Before long we were finally let in, we saw Hannah the cloud 9 rep and a few other familiar faces as Sarah and Kayleigh from the airport. Rushing to the side of the stage to get a good place for the show we heard cheesy music being played all of us wanted to hear the tribe album. A loud voice started booming through the speakers it was the announcer I could only make out "Tribe" the crowd impulsively cheered until the smoke screen faded and the cast were slowly being raised on the platform there were lightening flashes and clicks from cameras in all directions.
The cast greeted us with enthusiasm and sat at the edge of the stage it seemed like they were only at arms reach. The long awaited episode was shown on the large screen it was like a premier, when the theme music started every single fan was karaoke-ing it off by heart. Loud roars and hysterical screams would come from the fans and the cast often turned around for a peek whilst signing autographs franticly.
We were first to get autographs, moving along the stage by swapping places with Charlie and Laura all six of us shifted closer to Meryl. Wendy grabbed her attention and handed over the scrapbook she gave us her word that the other cast members would get to see it. Diana couldn't wait to speak to the cast, as she wanted to ask them for acting tips. Caleb next, I was so excited he was the only one that I hadn't met before he signed all my stuff and I asked him to pass on something for Michael. Now for the most important part asking him for that trademark wink from the music video "This is the place" so I could take a great snap he laughed.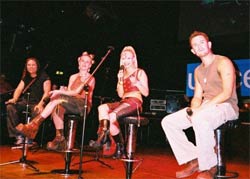 The episode was still going strong. KC appeared then a huge scream came from the crowd "KC get in there my son!" Natalie had dared Laura to shout it out. I just got in with a small "YAY KC" but when Alice came into vision the crowd went wild to see that they had both come back to the series. I patiently waited to see Matt I got to the front of the stage but he moved away to the corner damn I had missed my chance he dropped 5 pence so I picked it up. Time for a short break to give the cast a well-earned rest they had been up since 4am, returning quickly they were handed bottles of water by Saranne and Emily.
We had submitted our burning questions earlier on now it was time for some answers. If they could have a life time supply of anything Meryl would have nutella with toast and fruit, Matt Vanilla milkshake from Star Bucks, Beth melon (in a German accent) and Caleb fresh peas from the pod. Caleb was asked whether he works out, he said quite often during the shoot with Matt. The girl for Lex is defiantly Tai san and he thinks Ambexism wouldn't work out. Since the last series had been shot Beth has been studying English and History, and after the spring tour chilling out. Her favourite series is 5 as she starred in it full time. Meryl was asked if Matt was a good kisser she replied "Oh yeah!" in an enthusiastic tone Matt blew her a kiss with a cheeky smile. If Meryl could be another character it would be Jack because he can be clever, funny and sexy. Matt does all his own stunts as he can ride a motorbike and he supports Liverpool FC. He also said that he wants to be the next Keanu Reeves but with a brain.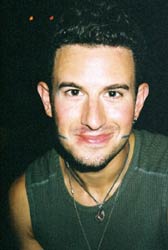 We all had an awesome surprise when the lights were dimmed to a moonlit blue and Matt had his live debut performance at the Hippodrome going solo playing a keyboard. Billy and David started waving from side to side he did a few short favourites that we could sing along to "It's getting hot in here" we knew the rest there was an immense applause. A speaker for Unicef told us about how they fight for the rights of children, they were extremely pleased for the Tribe's support and their contribution. I managed to grab a step to sit on, then a short piece from youth create was performed which was a new tribe drama with interesting concepts and issues.
We desperately wanted to get our hands on some raffle tickets by the time it got to Diana she had to trail along until they got a new book but everyone made sure they brought lots as it was all in aid of charity. The 20 best dressed fans were picked by the cast the two most adorable were Regan and Michaela also Anne and Carly they all won exclusive tribe cd's of the second remixed album. Laura being extremely lucky won a raffle she was ecstatic. That wasn't the only exclusive thing as we got to watch the spring tour which was packed full of funny moments.
I went over to Charlie for a chat whilst waiting for a turn to see Beth, Meryl, and Matt the queues were still far too long so we decided to go and take closer pictures. For some reason Matt's queue finally died down and disappeared we headed over there in a flash. I found that he was fluent in French with a terrific accent as he spoke to Anne and I told him he had a great voice. Then I returned the 5 pence he said it was his "wages" and he posed for some pictures. I had forgotten my autograph book so I ran back over and he happily signed it I got some sniggers from the other fans because I skipped the queue oops!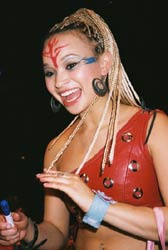 The highlight of the day was when Meryl sang live, after a false start due to technical hitches she performed "You Belong To Me" and "Spinning" she really got the crowd going. Wendy quoted "Look at that belly" from the bloopers 2 and Meryl thought it was hilarious. I didn't have time to see Beth but David and Billy made sure they got lots of photos. The signing had already run over time but they stayed so that we wouldn't get disappointed. Caleb came back to finish his queue the rest of the cast had a few photo's with some fans and Matt waved goodbye to us. The entire day was a great success and they raised plenty of money for charity all that was left was to get our films developed.

Linda Chan (20)