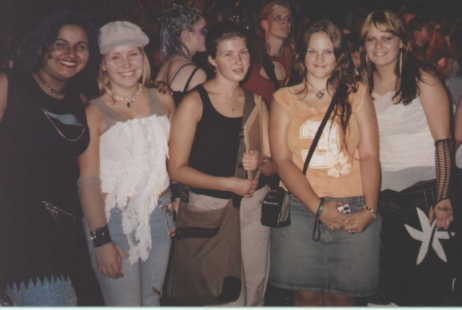 The next step towards total world domination… the UK Tribal Gathering!
A six a.m. start for me on Saturday the 23rd of August. Who would have thought that someone can get up that early? But sleep is not something an obsessive Tribe fan thinks about… the sheer anticipation of the Gathering had kept me awake most of the night! The early start was exactly what I needed… especially as I had my first Tribe crisis of the year. I wanted to dye my hair blue for the Gathering in the morning, but as it didn't work (and only my scalp had gone a lovely midnight blue), I had a mad rush into East Ham to find some spray-in hair colour. I just had to look the part! Luckily, I was saved by a gorgeous pharmacy and ta-daa! The Tribe look was complete.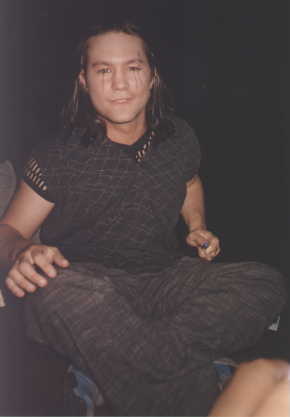 All dressed up in a lot of fishnet, I walked through London to catch the tube up to Leicester Square. I was really worried about getting funny looks, but I was quite surprised – once everybody had taken a look, they didn't (generally) tend to look again! I waited at the tube station to meet up with a couple of friends from the Bulletin Board, Anja and Lance. Once we'd all got together at about half ten, we headed up to the Hippodrome. It was already packed out with hundreds of mad Tribe fans – there were some awesome outfits floating around out there! We met up with a few more people from the board, Sarah and (another) Sarah and we were all chattering away like a load of magpies, assisting each other with some Tribe makeup for our faces. All of us looked superb by the time we went in.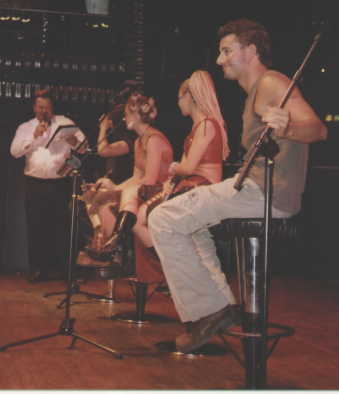 I saw a few people from Cloud 9: Hannah, the lovely UK Fan Club queen, and 'Chocolate' David, Tribe Gathering organiser extraordinare! It was great to see them again and I stopped to have a quick chat before running to the main hall to secure a good place, right next to the speakers on the right hand side of the stage. I couldn't have picked a better spot… Matt Robinson was soon to be sitting right there!
Chocolate Dave came on the stage and everybody just went wild. People were screaming for the cast, and they were slowly raised out of the stage, smoke effects and fantastic lighting really intensifying the moment. It was amazing, everybody was just shrieking and shouting out to the cast. They all really seemed to be enjoying it, and I was soon recognised by Beth and Meryl as one of the obsessive fans met earlier in the year.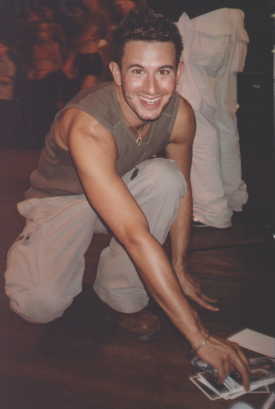 Just after twelve o'clock, we launched into that Saturday's Tribe episode. It was really great to be watching it with all the other fans – everybody was cheering for their favourite characters and singing along to the music. While the episode was on, the cast began signing autographs and chatting with the fans. It was great to see them getting on so well with everybody. My little clique of buddies all sat around together to watch the episode, which was really fun because we were making plenty of jokes and having a great time.
The cast took a bit of a break before launching into a fantastic question and answer session, hosted by Chocolate Dave. All the questions had been put forward by members of the audience, and, although some of them had cast members cringing (such as 'Caleb, why are you so sexy?' and 'Is Matt a good kisser?'), everybody seemed to have a real blast at answering them.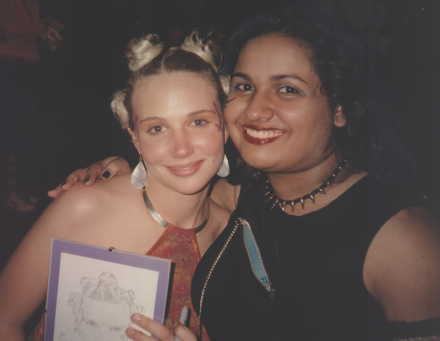 No rest for the wicked. Perhaps that's why Matt was then whisked on to sing for us… He sat down at a keyboard on the stage and gave us some awesome songs, one written by his own band and another mini-medley of some popular tracks such as 'Cry me a River' and 'Hot in Here'. Matt was absolutely superb and really professional in his approach – good on you, Mr Robinson!
The UK Tribal Gathering was supported by UNICEF. As the Tribe will be working closely with UNICEF to raise loads of money, a spokeswoman from the charity talked to us for a little while about how our money will help hundreds of unprivileged children around the world. She discussed how we all have basic rights, but that some children's rights are not accepted. We need to act on this now, and she had plenty of support from the audience.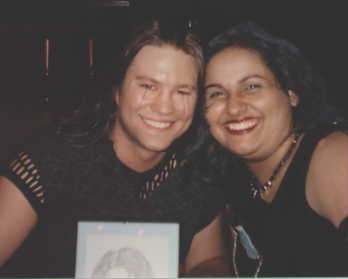 Another big revelation at the Tribal Gathering – the Tribe Theatre Project. This was an amazing announcement from Chocolate Dave… we can, so to speak, be part of the Tribe by supporting them in school and doing acting sessions and the suchlike. It was great to hear about it, and we then had an example demonstration from a group of young actors called Youth Create. They were all just so professional but so young… there are so many talented young people out there, aren't there?
There was a costume competition, and the cast picked out their twenty favourite dressed-up members of the audience. They picked out some lovely outfits, and I have to say, I loved all the mini-Ambers and mini-Ebonys – you all looked great! The lucky twenty were given the new Tribe album remix, and it was certainly well deserved for all the hard work they had put into their costumes!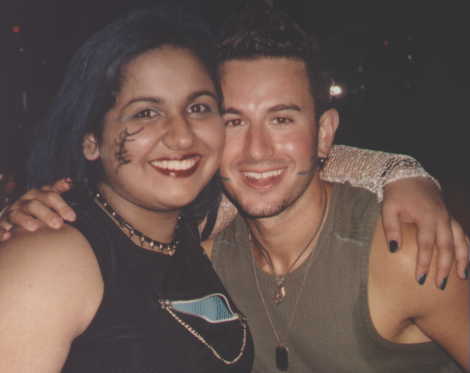 Wow, there was just so much happening! The cast signed some more autographs while we watched some unseen footage from the Tribe Tour earlier in the year. While all this was going on, we bought some raffle tickets to try and win some exclusive Tribe merchandise. No luck for any of my friends in the draw, but who cares? It was all for charity and we were happy to just participate!
And then, the best bit by far for me, was getting my autographs from the cast. Matt first, and we held up the queue for ages talking about just… stuff, really. I had done individual sketches for all the cast, and I gave Matt his. He really loved it, and I managed to get a snap of him holding it, which was cool. I also managed to get Matt to record my voicemail message on my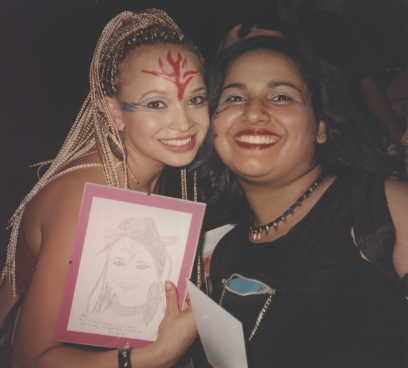 phone, so it sounds absolutely awesome now! Then on to Caleb… Caleb was really lovely. I'd been trying to get him to smile all day, and finally managed to convince him to give me a lovely grin for my photo, which was really great. He remembered me from the time I met him in Star City, all those months ago, and so we had a bit of a chat about how he'd been since then. It was great to just talk to him. You sometimes forget that the cast are human too, but then when you meet them, you are astounded at how… normal they are!
A quick dash across to Beth to have a quick chat with her and give her the sketch. She was absolutely sweet, and said that I was an 'amazing fan', which was really lovely of her! We were chatting a bit about my writing and what she thought of it, and it was so great to see her again.
I was just queuing up for Meryl when she disappeared, ready to sing. She has the most amazing voice, and she really had the crowd riled up, dancing around and singing wildly. She seems really quiet when you talk to her but once you get her singing there is no stopping her! She sang 'You Belong to Me' and 'Spinning', my two favourite tracks (how lucky is that?!) I hadn't managed to get Meryl's autograph yet, but I caught up with her after she'd finished singing and gave her her sketch too, which she truly loved.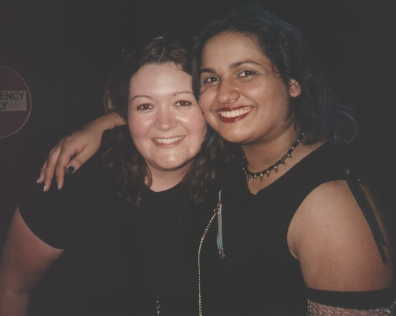 The cast had already gone way into over-time by now, and they really did look exhausted, but Caleb stayed around to sign a few more autographs for those who hadn't got them. I had a chat with the lovely Saranne for a while, and gave her some individual sketches for Michael and Tom, as well of one of her with Emily. The last photo on the film was saved for her, so I got a great photo with one of the legends from behind the scenes of the Tribe.
The whole day was just so fantastic. I was absolutely exhausted by the end of it, but I had met up with some friends, chatted with the cast and got some autographs, as well as been part of Tribe history and earned some great memories. We raised thousands of pounds for UNICEF just on that one day, so the whole experience was definitely worthwhile.
I do have one question though…. When's the next Gathering, then?