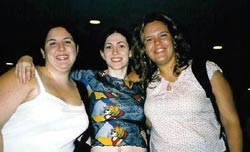 My flight to Atlanta got there fifteen minutes early so I was very happy that I might get to catch more parts of the panels. I had a class that morning so I needed to stay and was bummed that I was going to miss the opening and the fashion show.
My friend, Melissa had come with me though she wasn't really into The Tribe. She'd seen a few episodes and liked it but not as into it as me. After we picked up our badges, we'd had just enough time to catch the end of the fashion show and costume contest. At the end of the contest, the cast came on stage to raffle off some signed prizes. I didn't get a ticket as I'd gotten there late but it was really cool just to be there.
After that, we all made our way over to the Marriott to catch the first two episodes of Tribe 1. They didn't have a VCR so it took them a half hour to get a VCR so we only saw the first episode. To know how it started was amazing. After that finished, Tom Hern came in to do a Q&A session. Luckily for me, I was sitting in the front and got an awesome seat. He came in wearing the techno outfit, complete with eye makeup. He sat down and the questions started. One of the fans knew Tom liked to rap and asked him to do a little freestyle for us. Tom's a really good rapper. It's not easy to be put on the spot but he flowed like he had it prepared.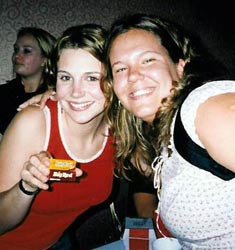 I had asked Tom what was his favorite thing that he liked to cook and he replied that he liked to make Chicken Fettuccini and it was a good way to impress the ladies. Someone asked a question of what kind of acting he'd like to do and Tom asked the audience if we'd seen the movie "Whale Rider". Claudia and I had seen it and that was the kind of movie he would like to do. I liked the movie and I didn't think there would be many people here who'd have seen it. I had asked a ton of questions, so many that Tom was looking to see if anyone besides me had a question.
Later that evening, the cast was going to do a signing session before the mature themes panel. I had met a girl named Ashley and we were talking about the Tribe before they let us in. She came all the way from Idaho. Meryl had walked right by us and Ashley's dad said Meryl was really hot. Just at that moment, Meryl turned her head and looked right at us, smiling. I died laughing. She turned and looked at us. I didn't think she'd heard us but it was right hilarious.
They let us in, and I started taking pictures. I got them to sign my bloopers 2 video and a poster the WAM! booth had given out. They were all so nice, you wanted to stay and talk. I got to talk briefly to each one of them and then made my way out to wait for the mature themes panel. It was a great panel. We were all laughing left and right and the cast was laughing just as much as we were.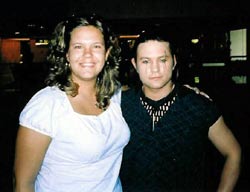 Saturday morning we had a panel about "Growing Up on the Tribe". Mikey was soaked from the Parade earlier that morning. After the track, we had a question and answer session with Meryl. She had mentioned earlier that she had wanted to try a donut and Karly had gone up to her during the track and gave her some Krispy Kreme donuts she bought. Meryl was really sweet and we got to learn a lot about her and I found out she liked some groups from England and even had heard of Gareth. I was right happy.
Later on in the afternoon, it was Caleb's turn to be in the hot seat. Caleb said that he liked the chorizo that he had in Spain. I asked Caleb "If he could change his characters hair style what would he give him?" Caleb replied he thought about cutting his hair. Big mistake. The whole crowd of fans immediately began yelling "NO" and protesting that he not cut his hair. It was hilarious. They had thought of shaving off his head in Tribe 2 for a boot camp scene and then have him wear a wig for the rest of the season. That evening I got the cast to sign my t-shirt that the WAM! booth had given out. I went to eat and returned to my room to change for the VIP party.
I met Karly and Stacy outside the suite and we went in. There weren't that many people there so we sat down, Fiona and Alien sat down with us, and we all chatted. The cast arrived a little later and we all mingled. Tom came down and sat right next to me on the couch and chatted for a few minutes. I got up and I was with some other people talking to Meryl. One woman was talking about her work on the Atlanta PD and Meryl was shocked to learn about all of that. I got to talk to Meryl for a little bit and left to talk to Beth. Beth and I talked about uni and other stuff.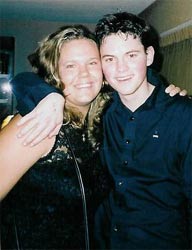 I wanted to talk a little bit to Mikey so I made my way over. I joined Mikey and Tom for a little chat and some other people joined us. I learned a little about New Zealand's immigration policy, which is completely different from America's. Mikey and I talked for a while about life in New Zealand and here. I got to mingle with the rest of the people, including the WAM! contest winner. It was a great night. It was really cool to be able to talk to each one of them on an individual basis as people and to learn about them as more than just actors. They were all really cool and easy to talk to. I could relate a lot to Mikey and Beth as I am in university too. I feel like I got to know them a lot better then I could in the few minutes at a signing.
Sunday morning arrived and I was ready with questions. We started with Mikey's question and answer session. I was interested and asked how Mikey spent his first paycheck. He told me he made a really bad investment in a jet ski. He eventually sold it after a little accident. Oops! He also told us about the penguins underneath his house. He has penguins that live under his house and they aren't exactly always quiet. At first, it was weird for him and when he had friends over, they were surprised when they heard noises. He was used to them and got used to sleeping through them but I was already hysterically laughing. It was so cute.
The next person to have an interview was Beth. I asked her the same question as I did to Mikey and Beth actually saved her money. Towards the end of the interview, she mentioned that she wanted to get some Big Red gum, as it was hard to come by. I knew I had bought some for the trip so after the interview I ran upstairs to my room and brought her down the gum I had: a package of Juicy Fruit and Big Red. I got my last set of autographs, and took some more pictures. It started to hit me then that the weekend was soon going to be over. I didn't want to go home and leave my new friends.
I was really excited to see Meryl and Tom sing that night. I headed over with my new friends and watched. The Pac man skit was so adorable. It seemed to drag on forever and then it was time. We were screaming and laughing and just as Meryl started the verse Karly, Stacy and I ran down the isles like nutters, headed toward the stage. I think we scared one of the Dragon*Con staff. She told us we couldnÇt go any further but we were allowed to stay there as long as we didnÇt block the camera. We were dancing; singing back to Meryl and then some of the other fans joined us. A whole lot of us singing and dancing; just having loads of fun. Meryl called us "her people" and we were the only people dancing in the entire civic center. Then Tom came out and sang with Meryl. It was this r&b song with Tom freestyling. I loved it. I had that song in my head the rest of the night. I was singing the melody in my head. It was awesome. I wish they would record a song like that for The Tribe. I loved it and still love it to this day. I think that was another major point for me.
Later that night Karly, Stacy, and I went to a drum circle. Caleb was on the drums as he'd been all the other nights. It was really cool. It was my first drum circle and reminded me a mix of Jungle (drum and bass) and a little bit of trance.

Monday morning, the last morning. I headed over to the panel of The Tribe: Season-by-Season and was fortunate to get a front seat. Many Buffy fans were there waiting for the track after ours. We had a really good question session. I asked them what they would name their own tribes and Beth replied "The Lay Abouts". They would all lie about and beg for food when hungry. Tom was the dogs or something along that line. The whole group was laughing and it was a great time to get a pictures of the whole cast.
After the track, I went back to the Marriott to watch the first two episodes of Tribe 5. Wow was that really interesting. Not knowing what happens in the last bit of Tribe 4, Tribe 5 was a little confusing but the end credits I think were more exciting than parts of the episode. I won't spoil it for everyone but it gets really interesting. I went back to the WAM! booth and entered a raffle to win a signed blow up chair. I really liked the chair that Mikey had written "Place bum here" and drew an arrow to the seat.
Tom picked out the first number and I was in a state of complete shock. I followed as he read aloud the numbers on my ticket. I couldn't believe it. All I could say was "Oh my God." Fiona looked at me and asked me if I won. I replied "Yeah" and that was it. I'm still completely shocked I won. I went up there and shook Tom's hand, telling him thank you. One of the WAM! staff was really nice and helped me deflate my chair. Four o'clock approached and it was time to say goodbye.
The cast showed up and were talking about their trip and answering some last minute questions. I couldn't stay as I had to catch my flight back to Tampa but I managed to tell them that I had a great time talking to them and they were completely unlike my expectation of celebrities. They were down to earth and really cool people. They are exactly like each one of us, living their dreams. I was really happy to get to know all of them. This weekend far exceeded any expectations I had and I want to thank deeply with all of my heart Meryl, Beth, Mikey, Tom and Caleb along with the people from Cloud 9, WAM! and Dragon*Con for making one of my dreams come true.
Maria (19)