Wednesday – 27th August – Tour Diary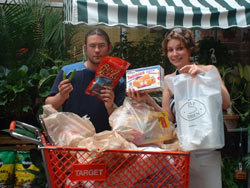 A lie in! A lovely long lie in! Comfy beds, great view, air conditioning cranked up to the max. Gorgeous. Had french toast for brekky and lots of great coffee. Then we met up with Bridget from WAM! and the Tribe Track organiser Dayna and we checked out the room that will be used for the convention. It's a nice big room and will no doubt look pretty different tomorrow when we tribe it up.
Poor Meryl had to stay on bed as she had caught the dreaded tummy bug from Emily and Saranne.
The rest of the gang jumped in a cab and went to the Lennox Mall where we all went a bit mad in the stores. There's so much choice and everything is so much cheaper than it is back in New Zealand so big bucks were spent.
We then had some lunch in the food court and were again blown away by the sheer amount of choice. We all tried something different and sampled each others food.
Then we walked across to Target and spent a good hour racing up and down the aisles throwing things in the trolley. There were 3 floors and when we had to go on an escalator to get to another floor we had to put our trolley on a separate escalator that ran alongside the people one. We thought that was pretty cool and had to try it out a few times much to the amusement of fellow shoppers!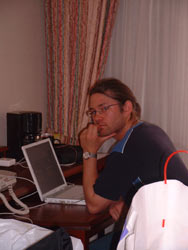 Everywhere we went people commented on our accents and said how lovely New Zealanders are – well, we tend to agree!
Out of Target and into a grocery store where heaps of tantalizing treats were put into the trolley this time. We were pretty excited to see all the things that we have grown up hearing about whenever we watch a movie or read a book that's American.
Back into a cab and we returned to the hotel for a bit of R&R. Meryl was feeling heaps better after a nap and plenty of water. Beth watched a movie in her room and Caleb checked his emails.
Bridget and Emily went back to the airport to meet Tom and Mikey from their flight and the rest of us stayed in our rooms, entertained by an amazing lightning storm. From up here at the top of the hotel we had a grand view of the lightning as it got closer and closer and the thunder got louder and louder. Actually it was pretty freaky, especially when it sounded as if the sky itself was about to fall on our hotel!
Tom and Mikey arrived at the hotel and there were huge hugs all round. It was great to see them again and they didn't look too bad considering they had flown all the way from New Zealand. They were full of beans and raring to go so we all had some dinner together before returning to our rooms and settling in for another good night's sleep in our amazingly comfy beds.
Tribe Tour 2003 – Bringing The Dream To The World…