Thursday – 28th August – Tour Diary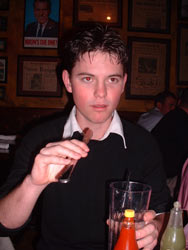 Another nice lie in this morning followed by a healthy breakfast downstairs. Yes, we resisted the waffles, pancakes and French toast this morning!
Met up with the Dayna and her Tribe Track staff and went through the schedule for the next few days then had some time next door at the small Mall to have a look around.
It was another majorly hot day and we had another thunderstorm. Supposedly they get a lot of those in Atlanta because of the moisture in the air  at least it's good for growing peaches!
Anyway, headed on down to the main exhibition hall to check out the WAM booth and we set up all of our merchandise. We all chipped in and got the job done in a hurry.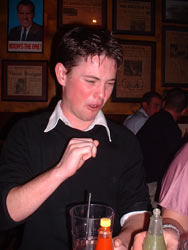 Grabbed some lunch and headed out to another local Mall for some mad shopping. Meryl, Beth and Tom bought some shoes, Emily got some pants and a top, Saranne bought some goodies for her kids and Michael didn't buy anything! Caleb stayed at the hotel to catch up with a friend of his from New Zealand.
Back to the hotel through the rush hour traffic and chatted with the driver about cricket. The thunder and lightning went crazy overhead again so we were glad when we eventually got to the hotel.
A 10 – minute change and we went back downstairs to meet Bridget, Glenn and Midge from WAM.
We all jumped into a cab and went to a New Orleans theme restaurant for a gorgeous dinner. It was pretty loud in there so conversation was limited but we all had a good time and enjoyed trying out some Southern dishes. Michael decided to try the Hot Pepper sauce that was on the table – take a look at the before and after photos! Lots of laughter as usual when Michael's about.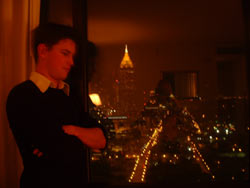 Back to the hotel to get an early night as the convention kicks off tomorrow with an appearance on Good Morning Atlanta. We saw lots of interesting people in the foyer including some Tribe fans who had just arrived. It's fascinating to see some of the costumes that are on show already as more and more people turn up at the hotel and we can't wait to see what tomorrow will bring.
We all went up in the majorly fast elevators (we still get a buzz out of them!) to Saranne and Emily's room to go over tomorrow's schedule as we have to get up early to get into our costumes and make-up for the morning show.
And then it was time to check emails, phone home and get ready for bed. It all starts tomorrow!
Tribe Tour 2003 – Bringing The Dream To The World…