Friday – 29th August – Tour Diary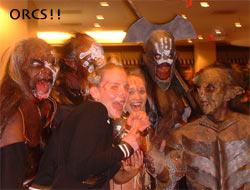 Wow, what a day! Got up at the crack of dawn and got ourselves ready to head downstairs for our spot on Good Morning Atlanta. As we went down the escalator we saw some seriously interesting people. Darth Vadar, Klingons, Fairies and all sorts of other indescribable costumes were out in force so we took a few hours to get acclimatized!
We did a short spot on the morning show from the art exhibition room and then we had a bit of time off in our rooms while Saranne and Emily sorted out the merchandise table with a lovely guy from WAM called Phil and a smashing guy from Dragon*Con called Jonathan.
Met up again at noon for an interview session with the team from WAM! and then we all went over to the Hyatt for the Tribe Fashion Show. There were some amazing costumes and we were pleased to see that fans had traveled from as far as New Mexico and London (go Scaramouche!). Saranne and Emily judged the event with Glenn from WAM! and it was really difficult to choose the winners as the standard was so high. But we think we made the right choice in the end.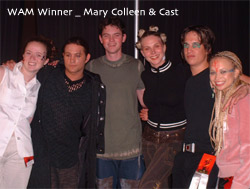 We met the Hanging with The Tribe Sweepstakes winner, Mary Colleen and her mother who are both gorgeous. We had a good chat with them and look forward to spending some more time with them as the weekend goes by.
After the contest there were some authentic costumes on show from The Tribe and the volunteers looked pretty cool in them. Ross and Marne did a great job being MC's for the event.
Up to the Green Room where we met some great people from writers to animation artists. And then down in the glass elevator with a whole load of Orks from Lord of The Rings which freaked us out more than a little.
Past no Face from Spirited Away and a quick dash back to our hotel for a bite of lunch on the run before Tom was required for his individual Q&A session. It went really well and Tom loved some of the questions which were well thought out.
We all met up again early evening to go back across to the Hyatt for the opening ceremony where the first 10 minutes of the first episode of The Tribe was shown to a large audience and then we went up on stage to wave to everyone.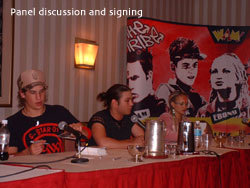 Hotfooted it back to our hotel for a signing session with the fans at The Tribe Track and then a mature audience Q&A session where there were some very interesting topics covered and lots of laughter.
Back up to our rooms at 10:00pm for supper and bed. No partying for us as we're all exhausted.
Special thanks today must go to all the Track staff and to Josh and Carl our security fellas as well as to John and Phil for manning the merchandise stall. You guys all rock!
Looking forward to tomorrow and the big Street Parade through downtown Atlanta.
Tribe Tour 2003 – Bringing The Dream To The World…