Saturday – 30th August – Tour Diary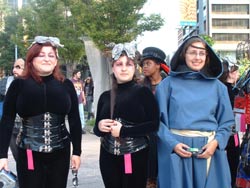 Got up early and sorted ourselves out into costume and make-up through our bleary eyes.
Caleb, Tom and Michael went to the drumming circle last night and had a ball. Caleb borrowed a drum from one of the Track Staff, Russ and drummed into the night – and Michael has the pictures to prove it!
Headed downstairs to meet up with everyone and then drove to the starting point of the Street Parade.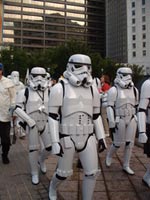 What a sight! Beyond description – Stormtroopers, Klingons, Superman, No Face, Rowdy Roddy Piper and all sorts of other amazing people lined up and took part in the parade through the streets of downtown Atlanta.
Or float was really cool. Bill Nilan and his team from Tribe Red Dragon decorated it all for us and they chose a beach theme. We sat in deckchairs and squirted each other with water pistols (or rather Tom and Michael did that) while Saranne and Emily walked all over the place filming everything that moved – and even some things that didn't. The float was followed by fans who were wearing costumes from the show and they all looked really cool. Thanks to Tami for organizing it all so well for us.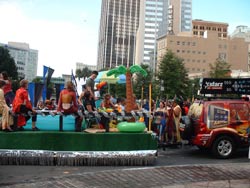 At the end of the Parade we went over to the Hyatt for a discussion panel about growing up on The Tribe. Again there were some great questions and we were pleased to see so many fans had come to chat to us.
Lunch on the hop. Tom and Mike went to a local store and bought some army style t-shirts and pants.
We then went down to the WAM booth for a signing session and were blown away by the line-up of people who had come just to get our autographs.
Meryl went in to the Track area for her individual Question and Answer session and she did really well. She always enjoys talking to people and found that there was a good range of questions.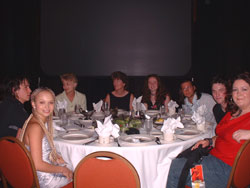 Most people are amazed that Meryl and Caleb are so unlike their tribal characters. As one woman put it, she hates them on the show but loves them in real life! They took that as a compliment.
Some time off in the afternoon to get ourselves organized for tonight. We all got into our smart clothes and zipped down in the elevators (can't get enough of that ride!) for another signing session in the WAM booth.
Caleb had his Question and Answer session which he really enjoyed and then it was time for the Guest Banquet at the Hyatt.
A very smart affair, we all sat down at proper tables and were treated to a lovely dinner served by a gorgeous older gentleman who kept calling the girls 'missy' which we loved.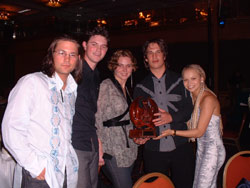 Raymond Thompson was given an award and Herndog read Ray's speech beautifully (even though he had to read Saranne's messy handwriting!)
There were lots of older illustrators, writers and comic book icons there and we were fascinated to hear what they had to say.
After dinner we went up to a suite for the WAM VIP party and had a great time meeting heaps of interesting people and spending time with the Tribe Track staff and other fans.
Tribe Red Dragon gave us each a bag full of goodies and an American first state quarters coin collection which was much appreciated – how spoilt are we?!
Caleb, Mike, Herndog and Beth stayed at the party but Meryl, Saranne and Emily had to head home to their beds.
It was a long day and we have to be bright and on to it for tomorrow.
So, another fantastic day at Dragon*Con and 2 more still to come.
Looking forward to the Masquerade Ball tomorrow night!
Tribe Tour 2003 – Bringing The Dream To The World…