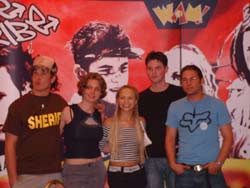 Monday – 1st September – Tour Diary
A bit of a sleep in this morning and then we met downstairs for breakfast. First up this morning was a signing down at the WAM booth. Lots of fans had gathered with presents and gifts and last goodbyes. They were all so sweet and they had all thoroughly enjoyed their time over the weekend.
Then it was over to the Hyatt for one of the final panels of the convention. It was a last chance for fans to get in any questions they hadn't got answered and a general discussion at the themes of the show over the last five series.
Lunch time and we headed to the American Grill that was in the hotel and we had lunch with the team from WAM. A chance to discuss the weekend and to say some sad goodbyes. We all sat down and helped ourselves to a huge buffet which was great and got our energy up again.
One last signing session and a group photo oppotunity for the fans. Lots of familiar faces and lots of loyal fans. It's so great being able to see and speak to so many of them.
After around half an hour we headed for a coffee and said our final goodbyes to the WAM team. They were heading back to Denver today and it was sad to say goodbye. We hope to see them again soon!
At 4.00pm it was the final panel for the convention. A time to say goodbye to everyone including the fabulous track staff that overwhelmed us with their generosity and support and made the panels run so smoothly. Lots of photos were taken and then the cast helped Emily and Saranne pack up the Tribe booth and merchandise.
We had made plans to go to dinner with some friends and we headed to the Hard Rock Cafe around the corner. What a great place! The music was great, the food was fantastic and the staff were cool. There was a staff member there who was 7 foot 3 inches tall! Wow! Apparently he's the worlds tallest drummer. The cast got some photos and by then everyone was getting pretty tired. We wandered back to our hotel for a semi early night as we have to be up by 4.30am tomorrow!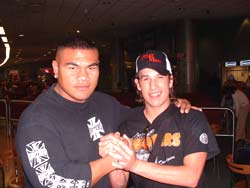 Tuesday – 2nd September – Tour Diary
Up very early for our dawn flight to Denver. We caught our flight to Denver then on to LA. We had a few hours in Los Angeles and time for some last minute shopping before getting on our flight to Auckland. The total flight time was around 12 hours to Auckland. Most of us managed to sleep at least nine of those hours and it was nice to be heading home.
We arrived in Auckland at 5.00am and sat down to a McDonalds breakfast. David Tua (New Zealand boxing legend) was at the Airport and Tom had a chat to him and got a photo before the Aucklanders departed and we said goodbye to Meryl, Beth and Tom. Caleb, Michael, Saranne and Emily caught a 7.00am flight to Wellington and again some sad goodbyes.
It's been a fantastic trip and we take home so many amazing memories. We can't wait for the next one!
Tribe Summer Tour 2003 – Bringing The Dream To The World…