Monday – 18th August – Tour Diary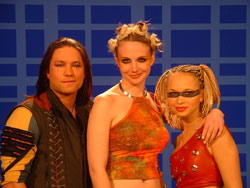 Wow! Waking up in Spain, what a buzz.
We looked out over the huge city as it was slowly waking up and the sunlight glistened off the buildings as far as the eye could see.
Down to breakfast and what a treat that was! Every possible food you could imagine and more. All sorts of amazing pastries and the fresh fruit  well, we ate our fair share of that. Beth is mad on melon, Caleb drunk coffee after coffee and the rest of us were into our fresh OJ.
Grabbed a couple of taxis and headed to the Telecinco studios in Madrid. Got to see some of the beautiful city on the way but although we kept our eyes peeled for Becks we didn¹t see him anywhere!
At the studios we were greeted in the Spanish way with lots of kisses. Got changed into our cossies which felt a bit strange after months of not wearing them. Down to the make-up room where we got our series 1 make-up done for us. It felt like we had stepped back in time! Clarissa from the London office is with us and boy are we glad! She is half Spanish so did all the talking for us. Although we can say a phrase or two the Spanish speak so quickly that it is hard to keep up with what they're saying.
After we had our make-up completed we went into a room for a photo shoot. In fact the whole morning was one photo shoot after the other and we had to strike all sorts of funny poses. Lots of jumping in the air and sticking our tongues out.
After several hours of photos we had a press conference where we were asked all about the show and luckily Clarissa was there again to translate for us.
Lunchtime and another great spread! How do these Spanish people stay so skinny when there's so much good food on offer?! We all chose pasta and fruit (Beth had some melon again!) and most of us went for some fish but found there were too many bones in it. Never mind, that meant that we had room for dessert. It was a typical Spanish egg custard and it was too yummy; we couldn't stop eating it!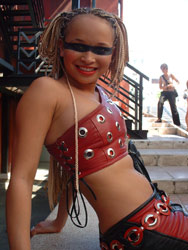 After lunch we felt pretty tired as the jetlag set in. But we still had work to do so we went outside for some filming. It was nice to get back out into the sunshine and we had a laugh trying out our Spanish phrases in front of the camera. The host of the show, a magazine type show Max Clan that will feature The Tribe, was all dressed up Tribe style and looked really cool. The Spanish have never seen anything quite like The Tribe before so we had a lot of people come out of their offices at Telecinco to see what we were doing and why we were wearing leather on such a hot day! After an hour or so we were asking ourselves the same thing!
Back inside to do some more filming. This time it was individual interviews. To finish the day off we had to wear Christmas hats and were covered in green garlands and Christmas lights! What a crazy way to earn a living.
After more kisses, this time to say goodbye, we went back to the hotel and crashed. It was still light outside and 32 degrees at 8pm so our body clocks didn't quite know how to handle it. Meryl, Saranne and Emily stayed in and had a lazy night. Caleb went out to watch Flamenco dancing at a local tourist restaurant and Clarissa and Beth went to a nearby square for tapas.
Another busy day planned for tomorrow with the Telecinco team and we're really looking forward to it. They made us so welcome today. Besides, we like the kisses!
See you tomorrow!
Tribe Tour 2003 – Bringing The Dream To The World…