Tuesday 19th August 2003 – Tour Diary
Off to Telecinco Studios this morning with a 9.00am start. Everyone is slowly getting over the jetlag and we were all feeling very refreshed until we stepped outside into the 30 degree heat. It really knocks your socks off!
We got to the studios and got shown to our dressing rooms and changed into our costumes then off to makeup to get our Series 1 makeup done.
We went around to a huge soundstage  part of Studio Picasso. A corner of which had a white set with white boxes and metal structures in it. The cast were asked to learn a few more Spanish phrases and lines like "The Tribe", "The World Belongs to Us!" all in Spanish of course!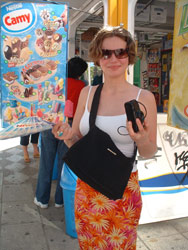 A really busy morning but a really fun one too. We found out that we'd be finished by lunchtime which in Spain is around 2.00pm. So we decided to see a bit of Madrid while we had the chance!
We headed back to the hotel and had a lovely lunch in the hotel restaurant. Each of us tasting each others food and all of it was delicious. It was decided that we should take a tour of the city on a bus so we headed down to the bus stop.
The tour took about one and a half hours. The city is beautiful with magnificent architecture and lots of trees lining the streets in the city centre. The weather by now was 40 degrees and sitting on the top of an open air bus was positively sizzling!
We ended the bus stop and went to a lovely square with a fountain to dip our feet in and sat there eating iceblocks.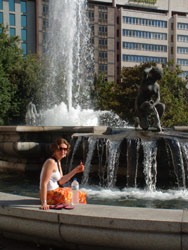 We'd had enough of the heat and headed back to our air conditioned hotel rooms to relax for a couple of hours before heading out to dinner.
We had a lovely dinner planned with the Telecinco team at a Spanish restaurant serving Spanish cuisine. In Spain, dinner is usually had at around 10pm or later but we headed out to dinner at 8.30pm. Everyone thought we were crazy! The restaurant knew we were coming and laid on a very special spread of all the spanish dishes you could think of and they even opened the restaurant early for us!
A great night with some really great people! We headed back to the hotel ready for a very early start to catch our 6.00am flight to Munich in the morning.
We're sad to be leaving Spain it¹s been so much fun and a lovely place to visit. But we're looking forward to seeing our friends at KIKA again.
Tribe Tour 2003 – Bringing The Dream To The World…