Wednesday 20th August 2003 – Tour Diary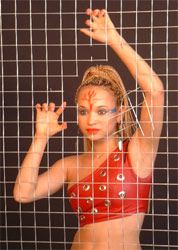 How early did we have to wake up? Too early that's the answer! We had a wonderful meal last night with the Telecinco team. We all ate traditional Spanish dishes including ham, lamb and pork and the meal finished at about 11:00 pm. We walked back to the hotel afterwards and fell in to bed straight away. After what seemed like only a few minutes the alarm went off at 05:00 am and we went down to reception to check out. We hopped into a cab and wound our way through the quiet streets while the city slept.
To the airport and into the Business Class lounge where we made the most of the free coffee to help kickstart us for the day ahead. And then it was time to say Adios Espana and we settled ourselves into our seats for the flight to Munich, Germany.
We had a nice breakfast on the plane of fresh fruit and then managed to have an hour's nap before we arrived in Munich.
Straight into another cab and we drove through the busy traffic to a photo studio. It was nice to find that the weather was slightly cooler in Germany than it was in Spain yesterday so we weren't too sweaty!.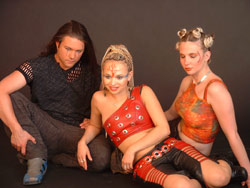 Into the photo studio for a great photo shoot with Michael, a photographer from Bravo magazine. We had individual shots as well as some group ones and Michael made us look pretty good!
We were filmed for an hour or so by a camera team from Logo at ZDF. They were a nice bunch and said that the feature would be on the television tonight!
Lunchtime and boy were we glad. We were having fun but were getting pretty tired by this time. Emily, Clarissa and Christine went to get us some munchies from a local takeaway and we sat in the sun and had a good break with some great food.
Then it was time for some more pictures, this time against a black background. And to finish the day off we went outside for some group shots.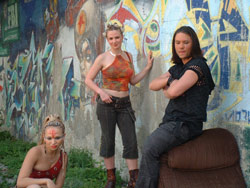 Back into the studio to get changed into our own clothes again and we had a look through Michael's book of celebrities that have been in this very studio. Beyonce, Ronan Keating, Geri Halliwell, Lil' Bow Wow and heaps of others. Oh, and there were some pictures of us when we came here 3 years ago too!  Weren't we cute then?!
We hopped into another taxi and drove through the rush hour traffic to the train station where we got on our train bound for Erfurt.
A long train trip but we didn't mind because we got to get some sleep and when we weren't snoozing we managed to see some of the beautiful German countryside. And it also helped that we got to travel first class  what a buzz!
We traveled for several hours and then had to change trains with all our luggage. A funny sight at 10pm, 5 tired Kiwis heaving heavy suitcases along the platform.
We finally arrived in Erfurt at 11:30 pm and went to our hotel where we fell into bed and got to sleep as soon as we could. Another early start tomorrow with the KI.KA team who we are looking forward to seeing again.
Tribe Tour 2003 – Bringing The Dream To The World…