Thursday 21st August 2003 – Tour Diary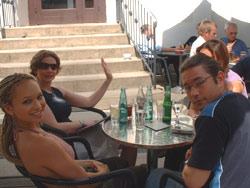 Well, did we have a journey and a half last night or what? We left Munich on the train as we told you in yesterday's diary.
The seats on the train weren't as comfy as we had hoped they would be and there was a really rude and grumpy lady in the buffet carriage. Then we had to change trains in the middle of nowhere at 10:30pm and we had to lug our 15 suitcases to the other side of the train tracks! Luckily there were some lifts. BUT the train we were on was 20 minutes late into the station so our connecting train had to be held for us and we literally had to run with the luggage to catch it! The other passengers didn't look too impressed!
Then an hour later we arrived in Erfurt and had to carry our luggage downstairs and along a corridor before finally finding the van and our driver! We were all exhausted and the cases were SO heavy! Whoever said showbiz was glamorous??!!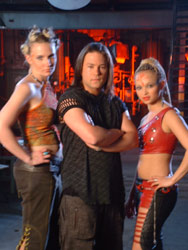 Anyway, this morning we were up early for our pick-up and we drove to a studio outside of Erfurt for filming with KI.KA. The team was the same team that always film us so it was like seeing old friends again.
It was a cool place to film in as it used to be a factory and it was very industrial and gritty so it looked very tribal.
We went out for lunch and sat at a street café where we were attacked by wasps. But we still had a good time because the English menu they gave us had some very interesting translations – "open discs of the cattle with or with salad of course in addition of not without" – for example!
We were spotted by a fan who came over for a photo and she was really sweet. Then the waitress asked us to sign the visitors book which we gladly did. And then back to the studio for more filming and a photo shoot before heading into Erfurt again and going to the KI.KA studios. This was for another photo shoot and interview, this time with our old friend Mark from YAM! magazine and the photographer Guido who we always have a real laugh with.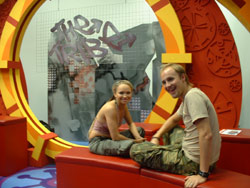 We finally finished work at 7pm and dropped Meryl and Caleb back at the hotel before the rest of us went to the local shops to stock up on make-up remover and shampoo – oh, and German chocolate too!
A 5 – minute change of clothes back at the hotel before we headed out for dinner with Barbara and Sebastien from KI.KA. They took us to a wonderful Italian restaurant in the square and we sat outside and were serenaded by some musicians. We got them to play Happy Birthday to Clarissa (from the London office) and she was pleased with that if not a little embarrassed!
Back to the hotel through the ancient cobbled streets of Erfurt and into bed to rest-up for a day at KI.KA tomorrow and an appearance on Kikania.
Tribe Tour 2003 – Bringing The Dream To The World…