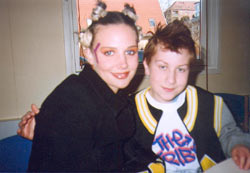 I arrived with my mom at "Nordisk film" 8:15 and we went to the reception. She called for a man, who went with me to a waiting room. In the meantime, I saw a famous danish actor. After waiting 2 min., a man came and I said goodbye to my mom. When I arrived to the waiting room, two boys and a dad were sitting there. The dad told me that I could take some cake (Danish pastry) and a coke, and so I did.
The boys told me that they were not sure if they were gonna be on the show and I told them why I was there. After 5-7 min., a make-up artist came to give me a make-over. She asked me some questions about what I was going to do on the show and after some time, she actually gave me a punk hairstyle. After that, I went to the waiting room again, and a lady came in and told the two boys that they were not going to be on the show, but they were welcome to watch it. Then I waited for about 8 minutes alone in the waiting room and then I decided to go to the toilet.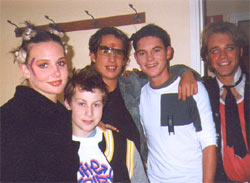 When I was on my way out of the toilet, I heard some noises, but I wasn't sure what it was. When I got out, I was s.hocked! I saw Beth Allen, Michael Wesley-Smith, Danny, who plays Zoot and Tom, who plays Ram, arriving to the studio.
Then I met Birka, who was also going to follow the actors for the rest of the day and Lisbeth and Bente, who had called me to tell me that I was the winner of the contest, were there as well. Lisbeth gave me a T-shirt with the Tribes logo on. After that, I said hello to Zoot, Jack and Ram. Then I got autographs from Zoot and Ram on my T-shirt and when Jack was done with his make-over, I got his too. I saw Beth getting her hair made, and when she was ready, I got her autograph as well on my T-shirt. After that, Michael gave me an autograph for a girl, named Sara, who really wanted his autograph. When our host, called "Bubber", was done with his make-over, we all arrived to the studio. I could see that they were all freezing, specially Beth.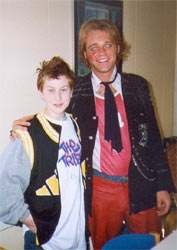 When we arrived to the studio, everybody clapped their hands. I saw the two boys among the audience and it seemed as if they were happy on my behalf. Some men told me that we should sit down, so I placed myself next to Beth. 10 minutes before the show should start, all the kids walked over to us. A man gave them instructions about what to do. They asked Beth some questions in Danish, and I translated them to English. The kids also made fun of us. They said that Beth and I were boy- and girlfriends, and Beth laughed at it.
Finally it started and we saw the start of the show. After that, we were told to get up on some chairs, because the interview was gonna start soon. When Bubber came, he asked me how I had won the contest. I told him and we started the interview.
My first question was: "Do you think you're gonna make a series no. 6?" They all answered the question. Then Birka asked a question, and then it was my turn again. My next question was: Why do you wear so much make up? And they all answered again. Birka asked once more, and then the time ran out. Bubber asked me and Birka a question, that I was prepared to answer. The question was: Why should everybody watch this serie 10:45 Saturday morning.?" I answered that there was much good drama and that it was an exciting serie to watch, but I forgot to mention that they have some awesome actors.
After we had ended our part of "Bunny Bugs Sunday's Club", we went back to the waiting room. Then we saw the band Big Browaz and I got their autographs at the back of my T-shirt. Then we went over to the studio again and listened to Big Browaz. I saw Beth taking some pictures with her digital camera. After a while, we took a cab to the actors hotel, because Beth wanted to put a warmer coat on and Danny wanted to take his contactlenses off.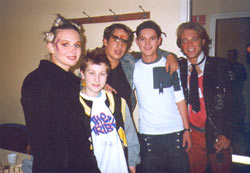 After that, we went to Café Ketchup to get something to eat. Birka and me had the chance to ask the rest of our questions to them there. One journalist came there to interview them and to take some pictures. He also had some questions to Birka and me. The journalist also wanted us on the picture with the actors. After that we ate and laughed. I got some cards from their producer and they all wrote a message to me. I didn't get a card of Jack and Ram, but instead I got one of Pride. Then Michael and Tom draw sunglasses and mustage on him. I was the only one who wanted dessert, because I was not very happy with the lunch I ordered. I couldn't eat all the dessert alone, so I shared it with Beth, Tom, Danny and Michael.
When we left Café Ketchup, we took a cab to TV2. I was sitting in the cab with Birka and Michael. Then we asked him some more questions. When we arrived at TV2, we relaxed a little bit in a room. The whole day, lots of people had told Tom that he looked like "Jon" from Popstars in Denmark. Finally he saw Jon on a computer, but he didn't think that he looked like him at all. 20 minutes later, we started the webchat. It was really awesome to watch them and sometimes Birka and I were on the air too. When we had ended the webchat, we took a break. Then I said goodbye to them all and we went down, but 1 minute later they came down as well. Then I went with Lisbeth to the hotel, where I waited for 2 minutes. Then I saw Michael coming in too. Beth, Tom and Danny came in too, and then we said goodbye again. I gave Beth a hug and I gave Michael, Danny and Tom a high five. Then Lisbeth took a cab with me to the Copenhagen train station and I went home to tell my family about THE BEST DAY IN MY LIFE!!!
I told them what a great day it had been and now I look forward to watch the next episode of The Tribe.
Written by
André Rothschild