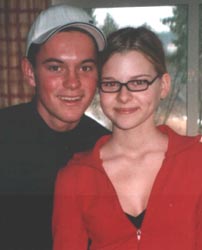 Sunday, March 9th
We were so nervous! I went by train from Regensburg to Erfurt with my Mum and my best friend Judith with her Mum from Hamburg to Erfurt because they were visiting the musical "The Lion King" two days before. At the railwaystation in Erfurt they met us again. After we had run to each other we hugged. Everybody arround us looked at us.
After we had arrived in the very nice hotel (Judith and I were in the same room) we had a bath and styled us for the meeting with the other contest winners. They all were really nice and a man from KIKA explained us the time-table for the next two days.
Then we went to a little restaurant to have a very good pizza. In our room we chose an outfit for tomorrow and then we went to bed and had really good dreams…
Monday, March 10th
We got up at 7.13 am. We were very excited and had breakfast. It was awesome: bread, fruit, rolls, waffles and much more *yummie*
At 9.45 am we drove in our little bus to the KIKA studios! DON'T LOOSE YOUR HEAD!!! Some editors said "Hallo!" and we took out our coats first. But now it could began: We went to the Kikania-Studio and there were some reporters e.g. from Kika and Yam. The Yam-reporter said: "Can you please stay there in front of the studiodoor?" Okay, Judith and I were standing infront of the door and many photos were taken. At last into the studios!
Standing infront of the theat we saw at television was a little bit strange but very cool! But what a pity…the Tribe-Actors weren't there yet!
The 2 TV presenters said hallo and we talked about the show and so on. Then we practised for the Live-Show and the Yam-reporter took some photos again.
After 45 minutes in the studio it was reallyhot! Cause of the many headlights. I looked around in the studio and saw a guy with a scarf and sunglasses. But just right now I realized that it was Tom and the others were coming, too. They looked around and everybody in the studio clapped their hands. We took some photos and now we practised for the show again à with the Tribies! Everybody of them was looking pretty cool and everybody was very nice. I was sitting opposite of Tom so he could look directly to me. When I looked to him I realized that he was looking at me. And after 2 minutes he was still looking at me…
But now we practised the funny fish game in which Judith took part in. James smiled at her and said: "Hi…(he looked at her name lable)…Judith ?!?!" "Yes, Hi James!". Tom sat on the Kikania-sofa and screamed for the "Boys-Team" like this: "Go Danny! Go Danny! Goooo!!! Boys, boys, boys!!!" And he asked what "Boys" is in German. Than he screamed: "Jungs, Jungs, Jungs!…"
Then it was lunch time at 12 am. We went out of the hot studio and the Yam-reporter waited for us: "Hey guys…can we take some pics with the two girls?" And suddenly Meryl (she gave us a hug) , Mike, James and Danny stood together with Judith and me infront of the door. Flashes, flashes, flashes! I stood next to Mike and Judith. Beth, Tom and Toni realized the "photoshooting" and then they came to us, too, and we made a group-picture. YEAH!
Then we went to the cafeteria and ate some chips. But we didn't eat very much 😉 ! And now we had to wait in our room but we went through the broadcasting station. There were the first Tribe-Fans waiting for the Tribe-Stars and we went to them and talked about them. And they said: "I want to meet them, too!" or "I'll give you 300 Euro if I can go to the Meet & Greet tomorrow!" But they were really nice and we talked about 30 minutes. And now to the make-up artist à without the Tribe-Actors! We got our make-up and our hair done just like a star…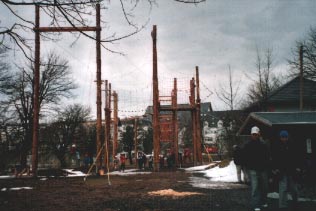 We wanted to go to the Fans again but we stoped because we saw Tom and Mike behind a glass door. They were playing a kind of squash and Tom had turned into "Ram". They saw us and wave their hands to us! Really cute!
Now we went back to the Fans and suddenly they screamed very loudly: "MICHAEL!!!". Mike went to the toilet. 2 minutes later: "MICHAEL!!!" He went back to the backstage room.
But now the "party" started: Meryl, Danny and Tom went alias Ebony, Zoot and Ram to the excited Fans and gave many, many autographes. The Fans were happy and two girls had a present for Mike but he wasn't there.
At 3,40 pm the party really started: "Everybody in the studio, please!" We ran quickly in the studio where the Yam-reporter waited for us. "30 seconds!" For the Yam-reporter it didn't matter: 'Can you stand up and hold your application in the camera?" "20 seconds!" Okay…we were ready!
Everything was better than before and there were many funny questions like: Mike, what kind of deodorant do you use, because you smell so good? Now we know it: Rexona! And after the funny fish game (the boys team won! What a pity…)
After the show had finished the Yam-reporter came to us: "Who's your favourite actor? Then we'll take some pics!" I: "Michael Wesley-Smith!" Judith: "James Napier!" First we took some pictures of me and Mike. It was really cute. Mike said: "Hi, I'm Mike!" and I: "Hi, I'm Franzi!" Then we stood next to each other and the Yam-reporter said: "Closer together, please!" Okay…no problem "closer together". Mike embraced my waist and the pictures looked really cool! Now it was Judith's turn and James. They stood next to each other, too, and the pics are so cute!
After that Judith's Mum gave her a little sheet and a biro: "Can you fetch me an autograph from 'Jay'?" Judith went to him and said: "Can you sign it, please? It's for my Mum!" "Oh…of course!" At the end we took a few pics with everbody and we went back to the hotel.
The first day was over now! TOO QUICK!!! We went to bed but we were again so excited that we couldn't sleep! We told us some "Fanfictions' in the bed it was really funny! Thank God that nobody heard this stories 😉 ! But sometime we fell asleep…
Tuesday, March 11th
We had to get up at 7.00 am! We were very, very tired but we managed to get out of our comfy, warm beds. I felt really sick but we had breakfast. I didn't eat very much and at 8.30 am we drove about 1 hour to Oberhof. I felt very very sick now and I think you all know what happened now…But after that I felt really good.
After we had arrived in the hotel of Mike & Co there were many reporters, cameras and other people waiting for us. But The Tribies weren't there! Then there was a little reception just for us with chocolate, jelly babys and energy drinks which tasted like jelly babys. (I didn't eat anything!)
Now we wanted to make a mountainbike tour but I and another girl of our group didn't go by bike but on car. While Judith and the others fetched their bikes I and Veronica waited for a man from the hotel. Suddenly Tom and Danny came and said "Hallo!". And now Beth and Toni came to us and Toni asked: "Where are you from?" "I'm from Regensburg, it's near Munich." "And how long did you drive to Erfurt?" "I think about 4 hours." "Oh my God! By car?" "No, we drove by train." "Aha!" Then Meryl said hallo and went into a little souvenir shop. Now Mike came and stood next to Toni and said: "Hi girls!" and after Mike James was comming. He said: "Hi guys!" and gave us his hand. They had a really nice smile…
We went together with them out of the hotel (Mike threw a snowball on Jame's head!) and they drove by carriage to the biathlon-shooting-hall because we were going shooting! Veronica and I arrived there a little bit earlier than the mountainbike-group and the Tribe-Stars were the last.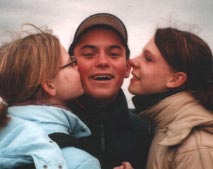 The leader of the shooting-hall explained us how to shoot and suddenly the door of the hall opened. I to Judith: "Hey, perhaps it is the Yam-reporter…!" We laughed because this reporter was really funny. While we were laughing Mike looked to us à perhaps we laughted too loudly! And fancy this: it was really the Yam-reporter!
Again we laughed so loudly that Mike looked to us again. We didn't laugh at you, Mikey…really!!! After the transfer of the leader Mike, Danny, Tom and James were ready to shoot and lay on the floor à ready to shoot!
The Yam-reporter made some photos of the guys and after the boys had finished it was Meryl's, Beth's, Toni's, Judith's and my turn. We lay on the floor and suddenly the Yam-reporter came to me and said: "Can you look over your shoulder?" Okay…I looked over my shoulder with the rifle in my hands. He took thousands of pics and while he took some photos I looked for one second behind him à to Mike, Tom, James and Danny. They looked at me and the reporter and smiled. It was really cute. Now we had to shoot and really à we weren`t so worse! The instructor next to me thought that I speak English, too, because he always talked English to me. His English was really funny!
While Beth was drinking a cup of tes James came to her and asked: "Is there anything to drink?" "Yes, tea!" "Oh no, I wanna have coffee, coffee, coffee!!!" James is a coffee-drinker!
Thene we had to go back to the hotel where we went to a restaurant with all of the Tribe-Actors. We were lucky enough to sit next to Danny and Mike so it was very funny. Meryl, Toni and Beth were sitting on our table, too. And Judith and I were the only of the contest winners who could speak really English because the others were younger than us.
First there was no free seat for Judith but Danny moved a little bit and she had a seat! The Yam-reporter had his laptopwith him and he showed us the pics from the day before. Mike, Tom, Danny, Beth, Judith and I were standing arround the laptop and looked at the pictures. At the beginning there were only pics from Judith and me and Mike said: "Oh, he liked the two girls, and I like them, too!" It was soooooo cute!
After many, many pics from "Ebony", "Jack", "Ram", "Jay", "Trudy", "Amber", "Zoot" and "Trudy" we had to stop because we had to order our drinks. We sat around the table and the table had a wobble. Suddenly Mike stood up and came with many napkind back and crawled under the table. At once the Yam-reporter took photos. Mikey managed it: the table hadn't a wobble anymore! Applause! Isn't he a gentleman???
And now Meryl, Toni and Mike wanted to know some German sentences. First we taught them: "How do you like it?" it is "schmeckts?" in German and then we taught them "What's your name?" it is "Wie heißt du?" and it was so sweet `cause Mike couldn't pronpunce it but he told us a Japanese sentence that he knew from his Dad. After that we learneed them "How old are you?", "Just one!" and "Sorry!" in German and Toni and Danny did it really good à the others, too.
Now we had to fetch our food. We had a barbecue outside and Mike ate one big steak and two very big "Thüringer Würste" this are sausagges. Suddenly the waiter stood next to Mike and me and asked (in German): "Who ordered the water?" and Mike said: "Thank you, I'm fine!"Judith and I laughed very loudly and Mike asked: "What's wrong? What happened?" After we had calmed down I cleared him up: "She asked who ordered the water and you said Thank you I'm fine!" "Oh my God…!" but he laughed, too.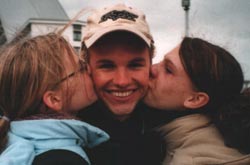 Because the adults didn't want to tell us what we wanted to do after the meal I had a try with Mike: "Mike, do yiu know what we'll do after the meal?" "Yes!" "Tell us!" "Ähm…I think we'll go climbing!" "Oh great!" Now we knew it…
After everybody had finished the meal we fetched our pics, books, CDs and so on to let the cast sign everything. Now the Yam-reporter took again many, many pictures. We printed for everybody a pic of his or her character aut si that they can sign it and write a little bit. On every sheet we wrote down the name for who the autograph was. Mike had to sign the pic for me and he said: "Franzi à I like the name!" Now I love my name, too 🙂 !!! He wrote: Hey Franzi! Maybe I might be able to meet you next time I'm in Germany! MWesley-Smith (Jack) and after he had wrote this he asked upsetly: "Oh no,…You're Franzi, right!?!" "Yes!" "Oh, sorry!!!" Then he wrote: Oops! Sorry about that. Hey it was awesome spending the day with you guys. Your English was excellent! MWesley-Smith (Ideot!) (Jack) Isn't that sweet?! Now I fetched autographes from the others and another girl wanted an autograph from Mikey but he didn't know how to write her name.
He said that she should write her name onto his hand. With a red felt-pen! Judith and I went to Meryl to let her sign our album covers. She was really happy to see the Tribe-CD and signed it and Toni signed it, too! Suddenly there was a golden splotch on Judith's CD. Perhaps the pen wasn't the latest…but Toni cleaned it. Then Danny signed it and after Danny Mike. And suddenly there was a second splotch on Judith's cover. On "Jacks" face. It was very embarassing to him but he tried to clesn it as good as posseble and he wrote "sorry" on the cover. He has got very good menners ;-)) ! Now we took some photos of Mikey with me and Mikey with Judith for the Yam-reporter.
Now we went to the Tribe-Tour-Coach to go climbing. Tom and we were the last and we had a present for him: "Wow, thank you! Shall I open it now?" "Yes!" "Oh, thank you! It's really nice. Thanks!"It was a little golden guitar which you can pin on a jacket or something like that. We got in the bus and Tom asked us to sit next to him (He sat next to Mike).
Now he pined the little guitar on his jacket. It was sooo sweet!!! "Mike, we've got a pressie for you!" He opened it and the Yam-reporter took pictures of course. "Hey, thank you! They're great!" We gave him some coloured golfballs with smileys on it. After that we went to Danny. He sat on the mattress-part of the bus and as we came to him he said: "Hi girls! Sit down!" "With the shoes?" "Yeah, with the shoes!" "We have a present for you!" And he got his present. It was a little bear with a blue shirt which sais: Daniel "Oh…thank you! He's really nice and he looks like me…!" He gave us a hug and who took pics? Right, the Yam-reporter!
Now Tom came onto the mattress-part, too, and we took again photos: And Mike made a picture, too. Now we had to stop because we were at the Wood-Jumping grounds. As we got out of the bus we ran to Meryl: "Meryl, we have a present for you!" "For me?" And she opened it: "Oh it's so nice, thank you! And blue is my favourite colour!" It was a blue pearcing for her navel-pearcing. She gave us a hug and showed it Toni and Tom.
The instructor explained us how to do"Wood Jumping" and how to make "Swinging". After that we got the safety belts and helmets. All of us looked very funny. Judith and I wanted to make Wood Jumping and Mike, James, Danny and Toni, too. Danny was the first one. He climed up the 10 meters high post and jumped into the "Nothing".
But Mike, Judith, Toni, James, Beth and I were holding the ropes of course! The next one was Mike. He climed up the post and jumped: "It's much easier for girls to jump!" The belts were fixed on this special place…you know?! The third was James. He climbed up the post and jumped. Applause! Judith wanted to do it now. She climed up and everybody screamed: "Go Judith, go!" And she stood up on the post and jumped! Now it was my turn. I started to climb up the post: "Go, Franzi! Go!" Okay, thzan I had to stand up à but how on a post with the diameter of 25 cm?! But it was easier than it looked like and I just turned arround and jumped! Applause! Toni was the last of us and now it was very windy and it started to rain.
Poor Toni! She had to stand up but she couldn't. But she managed it to stand up and jumped! YEAH!!!
We had to took out the belts to drive back to the hotel. But first there was an interview with Mike and Toni: "How was it to jump of a 10-meter-high post?" Mike: "Oh, it was awesome! But Franzi over there did the half time I did! Really great!" Toni: "But Judith was fast, too! The two are cool!" After this interview Judith and I went with Toni and Mike to the coach à alone!
We ate some crisps together with Mike and Toni. After we had aten some crisps we gave Toni her pressie: "It's just a little present but we hope you like it!" "Oh, you're so sweet and I love such things!" It was a violet rose which you can pin on a shirt. "And I'll try to wear it as often as posseble. And it fits to my hair!" And she gave us a big hug. Now the others were coming and we went to Beth: "Hi! We have a present for you!" "Oh a dug! Sweet…Thank you!" It was a soft toy a little white dug! We huged and anbother girl asked Mikey to do something funny for her video (she had a video camera with her). And he and Tom sang a song just for her.
The only one who didn't get his present was James. So we went to him: "Hey, James…we've got a present for you!" "For me?" "Yes! Do you still play the drums?" "Yeah, of course!" "Okay…here it is!" Judith sat down next to him and gave it to him: "It's a stick-holder for your drumsticks!" "Oh, cool…it's the best present I ever got from Fans. Thanks!" Hugs!!!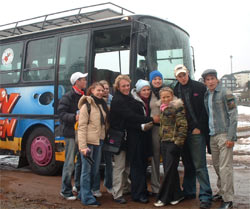 Then Judith gave him her little bee (a small soft toy as a keyring pendant): "And I want to give you my little bee! She's very old and dirty, but I want to give it to you." "Really? Thank you!" Again many hugs! James fixed the bee on the stick-holder: "Now I'll never forget you two!"
Now everybody was quiet and James looked at the bee. Judith: "Oh, she's very dirty!" "Yes, but that's why she has got a character. Much much much much much DANKE (Thanks)" That was soooo cute and we smiled at him and we hugged the third time! The Yam -reporter couldn't make pics à he was to far away ;-)) ! Now we had to get out of the bus because we were at the hotel.
All of the cast sang now "The Lion Sleeps Tonight" and it was very sweet and the sound was awesome! After that we gave them some German chocolate and we had to say goodbye now. Everybody gave me a hug and as I came to Mike I gave him a very very big hug! They wanted to go but I said to Judith:"Judith?" and looked at her. She said: "Okay…let's go!" and we ran to Michael: "Mike, ähm can we take a last picture? A special picture?" "Oh yes, of course!" "We want that you stay there and we kiss you an your cheeks!" "Ähm…all right!" We kissed him on his cheek! OH MY GOD! IT WAS SO COOL! WHAT A CHEEK!!! I'll never forget THIS cheek! WOW!!!
Now the Yam-reporter said:"Can you do it again, please!" While we were kissing Mikey on his cheek Meryl said: "Oh he's blushing…!" How sweet is that?!?! "And again, please!" OH MY GOD! THANK GOD FOR THIS REPORTER! AGAIN THIS WONDERFUL FEELING! But now he didn't say "again"! What a pity! Now they wanted to go and Judith said: "And James?" We ran to him: "James? Did you see what we've done with Mike?" "Yes!" "Can we do this with you, too?" "Yeah, come on!" We kissed him! A LITTLE STUBBLY BEARD! ISN'T THAT CUTE?!? WOW! OH MY GOD! I LOVE THIS TWO CHEEKS!
Yam-reporter: "Again please!" YES! We did it again! WOW! Now they had to go really! NOOOOO! Yes…what a pity! The Yam-reporter smiled at us and went WITH THE CAST to the hotel! The Tribies waved their hands and said "Goodbye!".
The day à and the kisses à were unforgettable! These two days were the best of my life and I'll never ever forever forget these days!
On our way back home we were somewhere on cloud 9…