3 cities, 2 countries, 1 tour ~ Laura and Natalie go A-Tribe Touring
Natalie and I met by chance last year at the only UK public appearance of The Tribe cast at Star City, in Birmingham. It was a totally random thing and we hung out during the day. We kept in touch and have become firm friends and with a long awaited reunion, our Tribe Tour 2003 – Bringing the Dream to You adventure begun.
Natalie:
Saturday:
I woke up early to the blaring of my alarm clock so I could get ready and have some breakfast before I was to head to the airport. I had wanted to get there at least an hour and a half early so I could get a good spot with my camera and just in case a lot of people turned up. The trek to Heathrow airport took all of twenty minutes by bus, and I arrived in the terminal to see two young women standing about aimlessly.
I took my chances and went over and introduced myself, and then all three of us went and stood by the railing to the arrivals gate. We exchanged pleasantries, and talked about different aspects of the show. Pretty soon more people turned up including the man of the moment Trevor, with big hat and all.
Soon 11:45 am rolled by and the monitors now said that the passengers were now collecting their luggage, we all waited with anticipation. And within minutes group 2 arrived, and James, Meryl, and Toni breezed through the gate. There seemed to be almost a moment of shock as both sides of the railing eyed each other up not quite believing.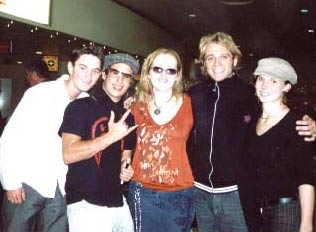 Their trolleys containing their luggage were pushed to the side, and the fans then instantly swarmed around James, Meryl, and Toni. I managed to get all of their autographs, plus a wealth of photographs of the cast. I found it interesting listening to what other fans were desperate to ask them, and then also the cast's response. They stayed for about an hour before Hannah the Cloud9 rep who'd come to meet them pulled them away. I hung around the terminal a little longer while I came down from my buzz, and then the two girls I'd met earlier Wendy and Anne went to catch the underground with Trevor. Once home I curled up on my bed watching that days episode which I'd taped.
Sunday
Unfortunately from the late night before I slept through my alarm and woke up an hour before Group 1 were due to land. I ran out of my flat twenty minutes later with no breakfast heading for the bus stop, one bus went right past me, it then took another thirty minutes for a bus to arrive, and at this point I only had ten minutes till the plane landed.
When I arrived at Heathrow Airport bus station I legged it over to the terminal, I slowed down when I saw people still hanging around the railing waiting and so I joined the back of the queue. I did not realise at this point that I was in fact standing behind the four cast members who had come through another exit and had wondered over to us. Nobody had a clue they were standing there until Hannah shouted to us and everybody turned around startled. They then ran off again momentarily to collect their luggage, but within minutes they returned too us eager to say hello.
First stop was Beth, as well as getting her autograph I questioned her about her hair on the show and her natural hair colour, afterwards I just prayed she hadn't taken offence to my questions. Next was Michael, a large group had gathered around him already and I listened in as Trevor, who I'd met the day before and was now accompanied by his son Gregory, bombarded him with questions and comments about the show as well as the language barrier in Scotland. It was amusing to listen to Michael's responses, as well as the accent difference between England and New Zealand, with Michael you also had to contend with the speed of which he delivered his response. Once I finally gained Michael's attention I snapped a couple of pictures of him.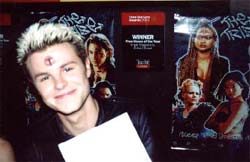 Monday:
I was up early to get ready for the appearance, it was sure to be a long day and I wanted to make sure I wouldn't forget anything. I left my flat about 11am and headed into town to buy the season one Tribe DVD box set, and then to catch the underground to Oxford Circus in central London.
I arrived in Virgin Megastore at about 1pm and was happily met by Linda and Anne. We headed downstairs and lounged on the leather sofas right next to where the stage was being set up for the Tribe appearance. Soon more familiar faces arrived including little Reigan and Michaela, who had been brought along dressed up as their favourite characters from the show, Amber and Ebony. They were absolutely adorable!
Other faces like Wendy, Trevor, and Gregory turned up too, and I was also introduced to two lads called Billy and Malcolm. The next two hours soon flew by and soon enough the security of the store was soon moving us to make an orderly queue round the corner of the stage. We were then moved to line up around the railings that had just been set up, and there we stood until the cast finally came out on the stage.
The seven kiwi actors walked out on stage calmly dressed from head to toe in their tribal outfits, make up and hair do's. The crowd screamed with excitement, and as the cast posed for publicity photos for the photographers at the front of the stage, Wendy started singing Happy Birthday to James and within seconds the whole crowd was serenading the birthday boy. He seemed truly touched!
They sat down and people started moving up on stage to get their autographs. I already had Meryl, Toni, Beth, and James' but I had missed out on getting the others. So I took the opportunity to get some autographs for my friend Danni in the U.S. As I walked up the steps onto the stage with my new found friends part of me cringed at the thought that they would recognise me from the day before. I hoped they wouldn't as I knew they'd get the wrong impression and think me a mad, obsessed fan, when I wasn't. I was there to get more autographs and join in with the excitement of the event.
I got tonnes more photographs, and as well as autographs I managed to get my box set signed too. And as I'd gotten my photos from Heathrow Airport developed, I couldn't help getting Danny to sign the picture I took of him in his fabulous jester hat.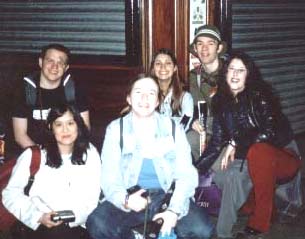 The others and myself wanted to get in the queue a second time in order to get our recently purchased posters signed too. But unfortunately we were not allowed to by the security staff. After much grumbling, we wandered outside ready to instigate our plan B. Thanks to the knowledge of Wendy we knew where the back entrance was to the store down a side alley. And so the 'Amazing Seven' a.k.a Wendy, Anne, Linda, Diane, Billy, Malcolm, and myself positioned ourselves on the pavement across from the exit. It was not the brightest idea we'd had! After waiting two hours in the freezing cold, myself having resorted to lying across the pavement, we were getting anxious and tired.
I finally resorted to questioning an unsuspecting cleaner from the store who had come outside and dumped some trash. He told me they'd be another half an hour, and oh how I hated the fact I'd took that man at his word. Sitting in freezing cold weather for a few hours drinking Coca Cola was not a good combination, and so Linda and myself ducked off towards Burger King to use the bathroom while the others laid in wait in the alleyway. Unfortunately for Linda and me, the single cubicle was occupied, so we ran next door in search of another.
When we finally appeared back on the street (only five minutes after we'd left the alley) we were annoyed to see the seven cast members, Saranne, Emily, and entourage on the pavement outside the store flagging down some taxis. As we walked past them Linda repeatedly elbowed me in my ribs to convey the cast' presence to me, but at this point I was more interested in getting my bag back off Anne. Once obtained, the seven of us wandered over and chatted to Michael as he, Meryl, and Emily waited for another cab. Michael happily recorded a message on Linda's phone, and also answered a nagging question of ours in regards to the unusually placed zip on his trousers from the show. But soon it was time to say goodbye, and we waved them off. Unlike on Saturday and Sunday we were not overly eager to hang about any longer and we immediately headed towards the tube station.
We said our goodbyes and assumedly the others went home. My evening was not yet over, as I had to go to Victoria coach station to pick up my partner in crime Laura. After waiting for an hour she finally arrived and we were immensely happy to see each other again. We grabbed her luggage and headed off back to my flat in West London.
Laura:
Natalie had invited me to go stay with her for a week and so I was embarking on my biggest adventure yet, travelling from my home town of Hull, East Yorkshire to London, where Natalie attends University. Originally, we had planned to spend the week bargain hunting in Camden Town and partying until dawn as well as going to the Birmingham appearance of The Tribe cast.
With only two days to go, I was flapping around the place, trying to sort my things out for the up and coming week and then, just as I'd settled down to watch Home and Away while I finished packing my first bag, I received a telephone call from Natalie, saying that she'd had a fantastic day at the airport and that we should take the opportunity to see the world a little bit more and go to as many appearances as possible. We figured that if we didn't get to see the cast at one, we'd get another chance and we'd also be able to say that we'd been places, even if they are practically in our own back yard.
The weekend passed in a blur and soon Monday morning arrived, with still lots to do, though having to go to work for the morning meant that I couldn't do them until my holidays started later that afternoon. I left work at 1 pm and rushed home, grabbed the rest of my stuff, changed and then waved goodbye to the parental units before heading off to the bus station where I would catch my first bus to Leeds. The bus was typically late but before long it arrived and soon I was watching the fleeting sights of the city behind me and heading off to another city, where I would have to wait for an hour for the connecting bus to London.
Leeds bus station was massive, bigger than the tiny one that we have in Hull, I got lost a couple of times looking for the right terminal to get my connecting bus, and if you know me, you'll know that my getting lost is a regular thing. Anyhoo, I finally found the right place and a little while later I boarded the bus bound for London. It was a long journey, five hours from Leeds, and every minute past as if it were a millisecond.
I kept myself occupied by reading a trashy romance novel and listening to my personal disc player, but still time dragged. Just when I thought things couldn't get any worse, we got stuck in traffic not far from Milton Keynes and we were informed that the bus would arrive later that it's 10:45 pm time. It was 11:15 pm by the time the bus pulled into Victoria Coach and Bus Station.
By the time my bags were unloaded and I finally struggled through the terminal gates to find Natalie, it was getting on for midnight. I'm sure that everyone in the bus station who were waiting for their buses thought we were mad. I dropped my bags and Natalie and I hugged each other, before breaking apart and screaming hysterically at the top of our lungs. When sanity finally rediscovered us, we headed out into the dark city streets of London, where were tried to flag down a passing taxi cab, to no avail. We retreated back inside the coach station and found a vacant car to take us into Uxbridge, where Natalie lives. At almost 1 am, we arrived and we ended up paying the extortionate fee of £50 to the driver. We didn't care, and together, we ambled up to her flat. We spent all night talking and catching up with each other, before crashing out.
Natalie & Laura:
Natalie and I had decided that whichever appearance we went to this year, we were going to buy gifts for each of the cast members, as we regretted not buying anything last year. We agreed that we should take a trip into Camden Town that afternoon, but it would have to be a really quick trip as we had train tickets book for the sleeper train to Edinburgh. After a very bumpy, one hour ride on the tube we arrived in Camden Town. It was very busy and we set out to get done what we had to in record time.
We already had an idea of what we wanted to buy each cast member and our first stop was an open hat shop to buy Antonia and Beth's gifts. We'd seen both of them wearing flat caps in pictures and thought that these would be the best bet for both girls, only with so many styles to choose from we were baffled. We ended up in a shop where we managed to haggle the owner down and then we headed out to find something else. I ended up dragging Natalie around the jewellery stalls and was amazed by the quality of the handmade silver rings, so much so that I bought a few.
We were walking back on the main street when we passed a guy who looked very familiar. He was wearing a leather jacket and had black curly hair. He seemed to be a regular visitor to the town, as people were shouting his name and he was waving at them. It wasn't until we finally got back on the main street that we realised that he was in fact the magician Paul Vernon. Camden is known for its celebrity visitors and he was the only one we saw all day.
We headed down the main street up to Maccy D's where we grabbed a bite to eat before heading back to the underground, during rush hour. The tube was packed out and even bumpier, but we planned out what we were going to do when we got back to the flat. We arrived back in Uxbridge at just gone 7 pm, got a taxi back to Natalie's and booked one to pick us up at 9.30 that night. We packed enough clothes to last us, filmed a bit for our mockumentary, booked a hotel room in Manchester online, and got changed. Soon it was time to travel again and we headed outside in the cold to wait for the taxi.
The driver helped us with our bags and waited for us to get in. It would only be a short ride to the tube station and the driver, a very friendly chap stuck up a conversation with us to pass the time. He instantly recognised my accent and started telling us about working on the John Cleese movie Clockwise which was filmed in and around Hull. Natalie thought she was in the presence of a film star, until he told us that he'd been part of the 1st crew. Still, all the same, he'd been behind the camera and that set us on a high.
Pretty soon we were back on the tube and heading towards Euston, where we would catch a train to Edinburgh. We waited around the terminals for a while before we finally boarded the plane. We weren't sleepy and chatted for a couple of hours and played cards, though Natalie won. Finally, after filming a little bit more of our mockumentary, we said our goodnights and settled down into the reclining seats for a nice long sleep. It was a terrible night, both of us kept waking up with aches and pains so we were glad when we awoke to discover that we were in Scotland. We took in the misty lowlands, and took pictures of sheep and baby deer to pass the time. We arrived in Edinburgh train station, got showered and changed and headed out into the beautiful city to explore. We got lost, once again and ended up at the castle. We took pictures from every angle as we walked down a large hill that ran behind it. We stopped every now and then to take in the scenery some more.
We decided to purchase some more gifts for the cast as we only had managed to buy Antonia's hat the day before and we headed into a souvenir shop, and looked at the coats of arms and plaids. We discovered there was rather a Napier clan in Scotland and thought that James might appreciate something that connected him to the country, but because they no longer exist we couldn't buy a kilt with his colours. So we chose a key ring which held the Napier coat of arms. We left the shop and Natalie was determined to get a picture taken with a man in a kilt, but she had to make do with a mannequin in a kilt instead.
We caught a taxi to The Big W-Woolworths which was quite a distance outside of the city centre. To find that no one had arrived for the signing and were the only ones there. It was noon and we had another four hours or so to wait, so we made a little camp outside the entrance and waited for other fans to arrive.
We went inside the store for a little wander and Natalie went over to the customer services desk inside to ask whereabouts in the store the signing would be, and what merchandise would they have on the floor. It was at this point that the lady behind the desk made a bit of an error, but subsequently totally made her day. Because she had her massive SLR camera and my camcorder hung about her neck, she thought Natalie was a proper photographer, and she called down the head of security (weirdly an Australian guy) to talk to her. Natalie explained the mistake, and just said I was there for photos and footage to put on a website. He answered her questions, and we thought things were clear but obviously they weren't.
At about 1pm, three girls from Glasgow turned up, Roz, Nic, and Raisin. They were geared out in tribal gear and they looked absolutely fabulous (especially Roz! Think Lori Petty in Tank Girl). They sat and spoke to us, and we all had a good chat about the characters and the latest episodes. Soon we were joined by others, including among which Amanda and also a little girl called Kelly who was joined along with her mum and her grandmother Diane. Kelly was the greatest girl, and burst out crying quite a few times when she saw them later on.
Around 20 people had accumulated by the time the cast arrived at 3:30pm. They arrived in two vans, one white, one black, both with their windows blacked out, however we did get a glimpse of one of them. Meryl was sitting in the passenger seat of the first van, and waved to us as it headed into the back delivery car park (which we didn't have access too). A couple of reporters from a Scottish radio station turned up and started interviewing the Scottish fans, already having been inside to talk to the cast. Roz, Nic and Raisin were among the most vocal and Natalie managed to capture it on the camcorder so we could watch it later on.
While we were waiting in the queue, Natalie spotted someone coming over towards us in the queue, along with a Woolworths security guard. She got extremely nervous when she realised it was her, that they were heading for. It was a woman who I had seen at the London appearance with Hannah the Cloud 9 rep, We later found out this was Julianne another Cloud9 employee and part of the cast entourage. She asked her who she was working for. This was where the misunderstanding continued, someone must have misinformed her telling her Natalie was a member of the press.
We had to tell her that we were actually there to take some pictures and film some footage for a website. She accepted our answer, and she walked back inside thinking that would be it. Boy did she make Natalie's day thinking she was a photographer – only in her dreams!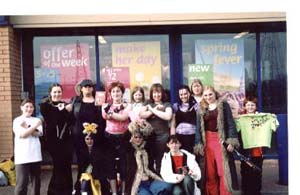 Anyway, we allowed Kelly and her family in front of us, but we were still in the first group to go in. The cast were all sitting down at a long table just inside the door. As soon as we stepped inside the store to head towards the cast, Julianne intercepted Natalie and asked her about the website She told her about it and about the 'mockumentary' we were putting together. She seemed really enthusiastic about it, and told me that once she'd been along the table and got what she wanted from the cast, she could hang about and take as many pictures as she liked, and some footage. Natalie was totally shell-shocked to say the least.
First were James and Danny. They were really sweet and played up for the camera. Next was Tom, Natalie asked him if he would say a little something into the camera, which he did. Then it was on to Toni, who playfully joked that there would website for the guys. Nat tried to placate her saying there was a lot of sites which are dedicated to the girls. She was really sweet and kind. Next was Meryl, she unlike the others didn't recognise Natalie from the other appearances and airport, but she was still a sweetie. When Beth was free, she claimed Natalie's attention. Beth recognised her from the other appearances, and she told her about our little adventure for that week and she seemed kind of amused and yet surprised.
Michael was the last person on the table. He recognised Natalie too, and sort of remembered me from Star City. Again Natalie had to explain why we were filming, he seemed genuinely surprised that we were travelling all that way this week. Natalie quipped to him that the trip was what her student loan was for. He seemed a little perplexed, possibly because student loans are called something different in New Zealand. We moved off to the side and dumped all our bags. Natalie then started the process of taking 30+ photos of the cast while they talked to the fans.
She went over and spoke to Julianne a little, while I went for some fresh air with Kelly and her family, and asked whether the website would be posting what magazines and interviews we could hope to catch. Julianne told Natalie that the cast had flown into Edinburgh that morning, and not caught the train or drove up as we had guessed.
Anyway Natalie joined me outside for a bit, and we then headed back towards the queue. There was only 2 or 3 people waiting, and so we stood behind them with Kelly, her mum, and her Nan. Kelly's mum had got permission from the tour manager to go in at the end and get some group photos of the cast. And we were allowed to tag along as Kelly's mum had asked Natalie to take a couple of pictures of Kelly to make sure at least one of the photos came out.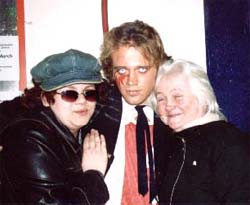 So the five of us wondered back inside with a couple of people. First the cast posed on there own, and then next some pictures of them with Kelly. After that Natalie moved over to the end of the table to have a rest, while I snapped at the cast posing in the corner. Finally they broke up and began talking to different people. I decided that I wanted pictures of me and the guys individually to tease Natalie and my good friend Tara who lives in Australia with. It was at this point, that a certain tall bleached blonde came up to Natalie and tapped her on the shoulder to give her a second signed publicity still for our friend Tara, who I'd got signed stills for. The card read "Keep up the good work on the website! Take care"
Eventually I managed to convince Diane (Kelly's grandmother) to have her picture with Danny. And at the last second, I asked to jump in too. Natalie took the pictures. To make the most of the situation (and embarrass me into the bargain) Natalie called to Danny something along the lines of watch their hands. Danny's response: a cheeky smirk. I got the chance to talk to Danny for a few minutes. I asked him how they were getting to Manchester and he informed me that they were driving down and that he hoped that he would be able to find some food as he was starving. I also offered him £200 for his trademark jacket, but he declined my offer, telling me that it was part and parcel of the same outfit he'd worn in the very first season. Next was Tom. I was about the same height as him, and almost as soon as he walked away, I mouthed to Natalie that I liked his aftershave. Michael was up next. He seemed really happy to oblige, and Natalie took the picture once again before having a wee chat with us.
I then called over James, but unfortunately he had to go and have his photo taken for a magazine. I shouted I'd get it tomorrow in Manchester, and James gave me the thumbs up. We subsequently left and hung about outside waiting for our taxi to arrive. We watched through the open doorway the cast heading upstairs, both Toni and Tom shouted goodbye and waved to us. We were told the cast would soon be departing but unfortunately our taxi arrived before they did.
We caught our train to Manchester with no problems, and made our way into town to our hotel, the Britannia Hotel. It was really old fashioned with chandeliers, and revolving doors and everything. We both felt quite out of place. We headed up to our room, had a bite to eat, watched a bit of television and fell fast asleep.
Laura Stead (20) and Natalie Hawkins (20)