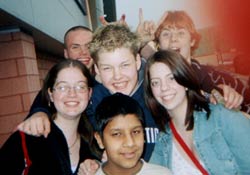 3 cities, 2 countries, 1 tour ~ Laura and Natalie go A-Tribe Touring
We woke up about 9am, and that was because none of our alarms had not gone off. And we were only woken because the maid came in to see if she could clean the room. We got washed and changed, and then headed to the train station where we dumped our luggage in the luggage office (for a pricey fee) and then we headed into town. We stopped off to check our emails in an internet phone booth and to check in with the tour diary. We were totally gob smacked to see that Matt had been added to the tour. We screamed and jumped around hyper, scaring passers by in the process.
W headed off to try and buy the rest of the presents for Saturday. And like any good shopaholic females, we managed to buy them all; time was pressing on so we gathered our bags of goodies and went get a taxi. We were surprised that we managed to find our way around Manchester so easily, because neither of us had ever been before, like Edinburgh, we were like ducks to water negotiating the city streets.
Again the Woolworths store was kind of isolated on a retail park. There were a couple of people already queuing there this time, and after grabbing a takeaway coffee and tea, and a quick spruce up of hair and make up in the toilets. We headed outside to join the queue, and started the ball rolling; taking pictures, filming and getting them to sign a book. We had the idea of getting people to sign a book. It had been done last year in Birmingham, but so far we hadn't seen one this year.
There was a mixture of people and messages today which was great. And surprisingly for the first time today I think the boys outnumbered the girls there. We hit it off with three people in particular; Mark (an avid Beth fan), Hayley, and Sarah (who was more there for support and nicked the posters and displays from outside the shop to go into the book). We also got talking to these two guys, one of them Chris, a Sammy look-alike, and the other Peter. We also met a girl called Carly, who had won the fan lunch competition.
Again we were near the front, but this time I went in the 1st group (to get Natalie's poster signed and for moral support for Sarah), while Natalie went in the second group to film them. The order today was Tom, Danny, Beth, Toni, Michael, Meryl and Matt squashed on the end. They all recognised us (Beth even remembering Natalie's name, which shocked her to silence!). And Michael waved and shouted hello as soon as she stepped inside.
While Natalie asked Danny and Beth how the tour was going, I asked Matt where he was actually from. His reply cracked me up. "Reading, home of the festival and not much else!"
The cast had driven to Manchester that morning and Natalie asked them if they'd had the chance to have some fun, and they said they had in Helsinki. Natalie soon turned her undivided attention onto Matt. He looks just as good in real life and is a really nice guy. She asked him where he was from and she told her the same as he'd told me. He told her that was the reason why his accent was so different compared to the others. She asked him if he could do a New Zealand accent. He said he could give it ago, under the tutorage of his castmates. He also said he was having a ball, and thought the turn out was awesome.
We (Natalie and I and the Manchester Gang) sat outside on the pavement where we sorted some stuff out. It was at this point that we realised that James had not been sitting at the table and we figured something had come up and he had been unable to make it. I rejoined the queue while Natalie sat outside with all our bags. I took one of the gifts which we'd bought with me. We had decided to give it to Matt and wrote out a card for him, agreeing that if he said he was unable to make it on Saturday, we would give him it there and then.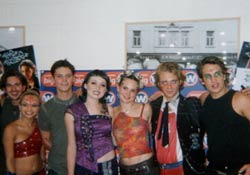 I was one of the last people to go in, so I managed to get some good groups shots. I ducked over to Matt, and handed in our gift; he peeked inside at it, and grinned thanking us. I also managed to get a photo taken with him, much to Natalie's dismay. We arranged to meet our new friends from Manchester in Birmingham that weekend where we would meet another good friend of ours, Charlie.
That night we travelled back to London on train, packed up are belongings in order for us to return to the motherships for Friday night. We slept soundly and woke late on Friday morning. We rushed around gathering up the bags of gifts for Saturday and our belongings and made our way to the tube station. Natalie left me at Euston so she could catch her train back to Wolverhampton, where she's from and I carried on to Victoria, were I only just made my bus and spent seven hours travelling back to Hull. It was late when I arrived home and I had far too much to do so I didn't sleep.
At 7.20 am on Saturday, I caught a train to Leeds, where I would change to get the train to Birmingham. I gave Charlie a ring just after nine am to see how far she'd got from Southampton, where she lives. She and her mum were travelling up to meet us at the train station. Natalie met us at the train station and as we had time to kill we went shopping for some last minute pressies to complete some of the lads' gift bags up.
We got Tom a drinking hat and some other bits and bobs. For Danny we chose book of movie bloopers and something else. We got Michael a toy called Airzooka. For Toni we found a burgundy hat from Camden, a bracelet, and some socks. We found Meryl a stylish leather handbag, and some socks. And we also got Beth a hat, a bracelet, and some funky looking toe socks.
Even though James wasn't there, we took his present along. We found a game called Shocking Roulette (which zaps you with a harmless current if you lose, quite fitting considering his character has a zapper). We also made Matt's present up too. Each person also received a squishy ball which sticks to glass and plastic surfaces. It looks a little gross, but they're really wicked.
We met up with Mark and Sarah who we'd met in Manchester, and they'd bought two of there friends with them 'Nimroid' and Cheryl. We headed to Small Heath in two groups and we finally got there about 1pm. We found a place to sit and quite literally made camp in the queue and went about sorting out everyone's presents. Then a dilemma struck; the bag we'd bought for Michael's present was too small. Our solution. We used a sheet of the wrapping Natalie had spare after wrapping her mothers day present, but unfortunately it was still too big. Our solution no 2. Sarah ripped a poster off the wall advertising the Tribe Appearance and stuck it over the gap. We also subsequently added graffiti over the poster with messages (which we would find out later he read!). We passed along the book we'd started for the fans, and many, many people contributed to it.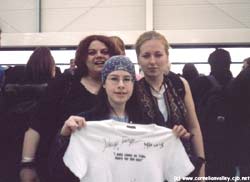 The cast arrived early, about 3pm or so. In the meantime Natalie and Sarah went and got their photos taken with a giant Chucky from The Rugrats. The queue was lined up along side the windows, allowing us to see inside, they'd put up a barrier so the fans could gather around them watching, and taking pictures.
The queue moved forward and we watched as they ushered the children out of the play area so they could set up the tables for the cast. We were right behind them. Pretty soon they came down, and everybody screamed (all few hundred people). Some people even kept on shouting power and chaos.
Seeing as Natalie and I were dealing out presents, Natalie asked Sarah to get her T shirt ("I only come on Tribe Tours for the sex!") signed for her; she slipped it on, wanting to embarrass the guys as much as possible. We kept on banging on the windows behind them, and one by one they turned around and read the T shirt. Beth and Toni laughed. Danny loved it and gave us a thumbs up. Michael kind of went a little red. And Tom gave us the most amusing response of all. Gave us his rad sign and did something else that can't exactly be described. We were so shocked and in hysterics that he'd done that. Soon we were inside and Natalie moved in front of me so she could film the cast and there responses to the T shirt as well as the pressies.
First stop Saranne, we handed her the presents for James and Matt as both were a no show, and asked her to pass them on. We also we gave her the book we'd got signed as well as a bottle of wine for her and the entourage. She was a little shocked that we'd gone to the trouble of getting a book signed and as we explained why we had done it, she smiled and told us that she'd been meaning to get a book for people to sign, but hadn't had chance with the tour been so big this year. She asked to take our picture and we happily posed.
Next was Tom. Sarah asked him to sign the T shirt. He seemed to love his present, but said he couldn't get the other things out as there were too many children about. While we were with Tom, Sarah shouted to me as Michael was signing my t shirt. He was having a real problem with it. Natalie asked him if he was having trouble concentrating, and he admitted he was. Nat told him to make sure his hand didn't slip while writing on the shirt, and he burst out laughing. Poor guy was finding it hard to on the fabric.
When Danny peeked inside his bag, he shot us a cheeky the sneaky smile on spotting one of his gifts. Next was Michael. We had to explain the state of Michaels present (i.e. decorated in a nicked poster with graffiti on it). He seemed really chuffed to receive such a big present. We told him read the tag as well (On the box we'd also taped Michaels squishy ball!) and we'd wrote "We thought you might be missing a ball!" The joke was well received.
The girls were next. Toni had been sat next to Michael and had read some of the things we'd wrote on the box. As she opened her bag, she asked how we knew she had a thing for the flat caps. Lucky guess was our answer and she told us that considering we didn't know her from Adam, we'd done really well on the shopping side of things. Toni seemed to really like her hat (even though she'd received a few more by the end of the night). And thanked us again and again. Meryl and Beth were very eager to get there goodie bags too, and absolutely loved what was inside. Beth was so grateful that she wrote on another card for us each, relaying her gratitude. It was really kind of her. Toni opened her squishy ball, and I don't think she knew what to do with it. We told her to throw it at the window and it stuck there. Beth asked for a go next. We had to move out of the way then around the other side of the barrier. But the seven of us soon found ourselves a good pitch just to the centre left of the guys.
From there, the entire cast, particularly the guys would talk to us across the crowd. Sarah, Natalie, and I kept on getting their attention by asking questions. We asked Tom to put his drinking hat on, which we'd customised by sticking the word Herndog across it. Michael began messing around with the squishy ball he'd had, and he accidentally threw it onto a ledge above his head. After a few failed attempts to get it back, by standing on a chair, we finally convinced him to try again. This time he scaled the window. We're not sure whether he got it or not, as we were too focused on snapping some piccies of Michael looking like a monkey and laughing hysterically.
We asked Danny for a safety pin off his jacket. But we think he misunderstood and thought we said could we have the jacket. His reply was, "It stinks!" There were many more exchanges between us, including asking about Tom's new boots and asking Danny if he fancied himself as the next James Dean, to which he replied that as his last name was James and that his first name was Danny, and that it sounded was close enough to be him.
Although we didn't know it at the time, some of the cast had been to Cadbury Land and someone had bought huge wholesale bags of Cadbury's Roses. They gave out chocolate to the fans. There were piles on the tables and some was thrown out to the crowd. When they weren't throwing it (and accidentally hitting people i.e. like Michael did) they handed it to the fans themselves, Michael got up and brought some round to us. He chatted to us for about five minutes or so, telling us about Uni and what he'd been up to since filming had finished. And with some urging from me, Sarah said to him "I'd much rather take you home!" and also, "Your sweeter then chocolate!"
At ten past six, myself, Sarah, Mark, and the rest of the Manny Gang had to go and catch a train. Sarah was undeterred when she shouted over the crowd and asked the guys for a hug because we were leaving. They all got up and obliged. First Danny, our fave. He thanked me for coming and thanked me for part of Tom's gift. Then Tom, who we asked to show his abs, he said no. I didn't get a hug from Tom as he had hugged me when I gave him his gift. And lastly Michael. I asked for a hug off him too.
We all left, leaving Natalie and Charlie to take the rest of the photos. Nat didn't take many after that as she didn't have much film left. The cast stayed till 7:30pm, and posed briefly for a group picture. Michael, had been accosted by fans, including Natalie and Charlie (Charlie's mum had called him over). He posed for a picture with them before saying his goodbyes to them both and heading back upstairs. It was an awesome week, one that neither of us will forget. We experienced so many things that at times we still think we dreamt trawling around Edinburgh and walking along a strip of land that held actual jousts back in the day.
Say what you will about The Tribe, but as far as we're concerned, The Tribe tours really do bring people together. Natalie and I had only ever spoken to Charlie on the telephone and it was amazing to meet her. She's a really great friend, who we can't wait to see again (in fact we're planning the holiday of a lifetime this December to celebrate my 21st, and to meet with friends from New Zealand, Australia and Finland). Likewise with the guys and gals from Manchester aka the Manny Gang, who we are meeting with again in the summer. We'd have never have met them if it hadn't been for that one week in March. Thanks Cloud9. We appreciate the trouble you guys go to for us all, even if we don't always show it. We keep your dream alive, just as you keep ours alive.
Loads of Love
Laura Stead (20) and Natalie Hawkins (20)