It was almost 5.30 pm and my mom and I had to leave to the bus who brought us to the station, we sat in the train about an hour. It was 7 pm when we arrived at the airport. A bit early cos their plane would land at about 8.30 pm!

They couldn't tell me from which gate they'd come out, so all I had to do was keeping and eye on that important screen that would tell me where I had to go! 10 minutes before they would land I knew where they'd come out, so I went there. There were a few people already, but no-one came for the Tribe!

5 minutes later I stood there almost alone! That would've been cool though. But before I knew, there were about 15 fans waiting for their Idols! Now people started to come out the gate. Everytime that door opened, I went crazy! I was so excited! I could finally meet the persons that I saw on my tv and that I adore so much!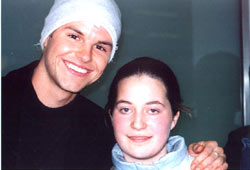 There they came out, finally! First Meryl, totally surprised. Then Toni and James. I think I lost it for a second. I couldn't believe my eyes! First I went to Toni, I got 2 autographs, also one for my friend who couldn't come because she wasn't well.
I talked to Toni about the tour and we took some photo's. Then I went to James. There were many girls around him! But I could get again 2 autographes and some photo's. He told us about his stolen guitar and how great the tour was so far!
Last was Meryl, when I was with Meryl a man came to her and asked for her autograph on a newpaper. When I looked at the man, I saw alot of people standing behind him, just looking at us, having no idea why we wanted their (Toni, James and Meryls) autographes!
I got Meryls autograph (twice aswell). When I looked at it agian, I noticed that Meryls autographes were at the other side of James's! PANIC!!! But they weren't gone, so I went back to James, and he didn't mind to write it agian! :D.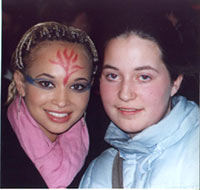 I didn't want to leave so I walked over to Toni again. We started talking about the tour, that it was so crazy that I saw her the same day on my tv, and no just a few hours later I was talking to her! I asked heralot about New Zealand, the Tribe and the other cast members who couldn't come to the Netherlands.
Hope she didn't see me as a loony fan full of questions!
Then it was time for them to go. I followed them outside where their taxi waited. when they drove away, I had to catch my train of 10 pm. When I was on my way home, I wanted to go again!
Until now this was definetly the best day off my life!!
Love, Anne Feliksik (14)